Your next ski trip: French Alps or Japanese Alps?
The below head-to-head battle pits the best snow resorts in Europe VS the best in Japan to see which will become your next first choice snow holiday destination!
ROUND 1: Number of Ski Resorts
Think of Japan and mountains covered in powder snow might not be the first thing that comes to mind. However, thanks to cold prevailing winter weather fronts from Siberia, Japan enjoys a 5 month long skiing season in much of the country.
80% of Japan is made up of mountainous terrain, and thus it should be no great surprise that it offers some of the world's greatest skiing. But it is a little-known fact that more than 10% of the world's ski resorts are in Japan.  With 599 ski resorts, Japan has almost 3 times the number of ski resorts of France.
Winner: Japan
ROUND 2: Skiable Terrain
The Japanese Alps stretch like a central spine down the main Island Honshu just west of Tokyo. Many of the resorts in Japan boast 50-80km of groomed pistes and over 1000m of vertical drop from the top lift to the bottom.  However, on these metrics alone it would be hard to compete with the some the biggest resorts in France whose terrain and length of runs are unparalleled.
In Hokkaido, a resort called Teine hosted the 1972 winter Olympics and offers some of the steepest, fastest skiable terrain in Japan. The 1998 Winter Olympics was hosted in Hakuba resort in Nagano prefecture, which has 137km of terrain featuring 200 different courses; enough to keep even the busiest skier finding new runs all week long.
Winner: France
ROUND 3: Powder Snow
This round is a not even close. Without question, Japan offers the best quality powder snow in the world. The geography is uniquely suited to deliver dry powdery snow time after time, day after day. The prevailing winter winds come across thousands of miles of dry frozen Siberian tundra before getting a short exposure to the moisture crossing over the Sea of Japan.
The mountains to the west of Tokyo, on the main island of Honshu, feature the best terrain of Japanese ski resorts. But in terms of snowfall, but there can be no question that the deepest and most consistent powder snow can be found on the North Island of Hokkaido.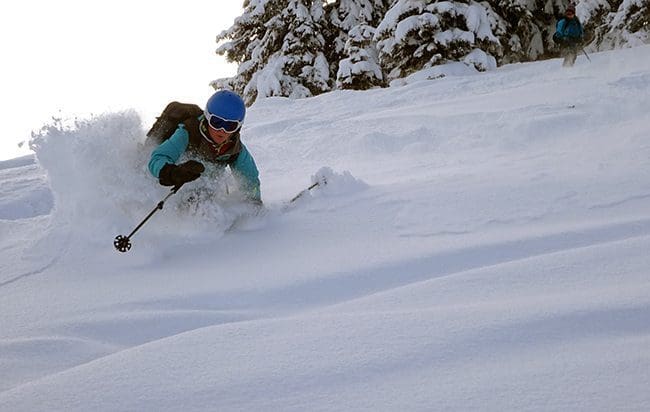 An island approximately the size of Ireland, Hokkaido itself has many ski resorts, the most famous and popular with international travelers being Niseko. Businesses in Niseko love to boast about their 11-16 metres of annual snowfall, but it is the consistently powdery nature of the snow (coming from the dry interior or Siberia), not just the quantities, that makes for such a special experience to snowboard or ski in. "Bottomless turns", often armpit deep, makes taking on steep black runs a cinch even for the less experienced skiers.
Skiing in powder is such a different experience that the above photo doesnt do it justice and one needs to see the below video clip to get a taste for how different the experience is and why people who ski in Japan keep going back for more year after year. If you have only ever skied or snowboarded in Europe, mostly on hard icy slopes or if lucky on 10cm of fresh snow, the your deserve to treat yourself to a trip to Japan to experience bottomless turns in silky powder snow.
Winner: Japan
ROUND 4: Crowds and Queues
France receives the most international visitors of any country in the world. Compile this fact that the French people love to spend their holidays in other parts of France and it goes without saying that ski resorts in France are rarely quiet. Of course, the time of year and even day of the week makes a difference, but in general, the slopes are busy and the whilst infrastructure investment in high-speed lifts have kept queue manageable, a queue at the bottom of the ski run is almost inevitable.
Contrast this to Japan where the popularity of skiing actually peaked in the early 90's and since then the numbers visiting the slopes has been in annual decline (partly due to an aging population). When Australian skier visited Japan about 20 years ago, they simply couldn't believe that they virtually had the whole mountain to themselves. Even with more than 200,000 international visitors over the 5 month season, with the exception of the week of the Chinese  New Year holidays each year, the rest of the season the 47km of groomed terrain and 31 lifts across the Niseko resort are remarkably under capacity and as such a pleasure to ski on.
Not only does a lack of people make it possible to get more runs in for any given time, but the pistes are so much safer also as a result and it's much easier to learn or teach kids how to ski in a relatively quiet resort. With several Australian owned and run ski schools to choose from, there are a plethora of native English speaking ski instructors, mountain guides, rental shop assistants etc and the facilities and standard of the kids ski schools in Niseko are as good as anywhere else in the world.
WINNER: JAPAN
ROUND 4: Cultural Experience
We may be biased here, and for sure France offers a cultural experience that extends beyond the normal, but little compare or prepares one for the range and depth of cultural experienes Japan offers every visitor. From the moment your place touches down at the airport, the country has a knack of throwing strange and unusal customs and traditions at its visitors, some a puzzle never to be solved and others just a luxurious experience to savour.
One of the favourite cultural experienes of any skier or snowboarder in Japan is a visit to the Onse (volcanic hot spring spa) after a hard day on the slopes.  The geothermally heated waters carrying rich mineral content from deep inside the earth is said to have healing properties on the body and anecdotally at least, it always seems to leave one's muscles feeling fresher the next morning, ready for another day on the mountain.
In 2016, The Lonely Planet team awarded Hokkaido as their "Top Place to Travel to in Asia" award.  The below embedded video shows many more reasons why a ski trip to Japan would be such a memorable experience to try instead of taking another visit to central Europe.
If you visit at the right time of year, you can also take in a visit to Sapporo's Snow Festival which sees teams from 16 different countries and from all over Japan compete to build the biggest and most impressive snow sculpture. Some of the 300+ snow structures reach 15m high.
WINNER: JAPAN
ROUND 5: Après-Ski
Given that the French invented après-ski, this is indeed going to be a hard one for Japan to compete with. However, as one can imagine from an international resort like Niseko, there are some great options to drink hot sake and craft beers as well as cocktails from all around the world at over 50 bars in Hirafu village during the peak season.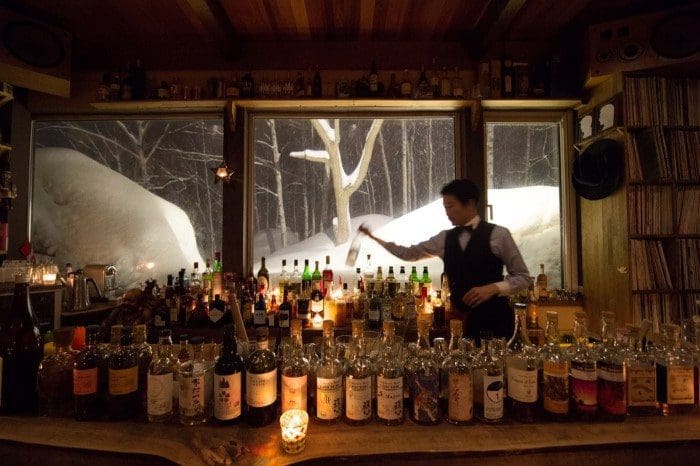 In terms of dining in Niseko, the options range from the Michelin Star winning restaurant Kamimura to a number of converted vans offering street food of all varieties. Another Niseko restaurant to note close to the slopes is Rakuichi Soba; a 12 seat restaurant (pictured below) which is known to serve the best handmade soba noodles in the world. The restaurant and its owner/head chef featured on Anthony Bourdain's Culinary TV show No Reservations.
For those visitors skiing on the main island of Honshu, perhaps the best après-ski can be found in a resort called Nozawa Onsen. One of the unique features of this resort is its proximity to the world famous Snow Monkeys who spend their whole winter bathing in outdoor naturally occurring outdoor hot springs to make it through the winter. Surely, there can be no better apres ski buddies than some of the characters below.
WINNER: JAPAN
Of course, if Japan and France were to compete in terms of flight times of time taken to arrive at your first overnight destination, France would be the clear winner time after time. But it is for this very reason that perhaps you might consider Japan on your next skiing holiday and ski the least beaten path away from the masses.
For information on winter holiday packages in Japan, clicking on the image below to download our 17/18 winter brochure. The various tours appeal equally to those who have an interest in snow sports or not. Unique Japan Tours are specialists in helping people discover the real Japan and can tailor trips for independent travelers or those seeking to join an escorted group tour.