Two Best Areas for Designer Fashion Shopping in Tokyo
GINZA
Whether you are a fashion fanatic with a limitless credit card, or simply someone curious to do a bit of window shopping, little can compare to the experience of strolling around Ginza along with Tokyo's elite. For those who truly love fashion, it can almost be overwhelming to see so many flagship stores of note so close together.
Stores of note include Prada, Ferragamo, Cartier, Chanel, Gucci, Bvlgari Louis Vuitton. Hermes, Tiffany & Co., Armani, and Issey Miyake, among others. The street scene is particularly vivid and beautiful after dark but when the stores are still open due to the endless neon signs that stretch up the side of each building.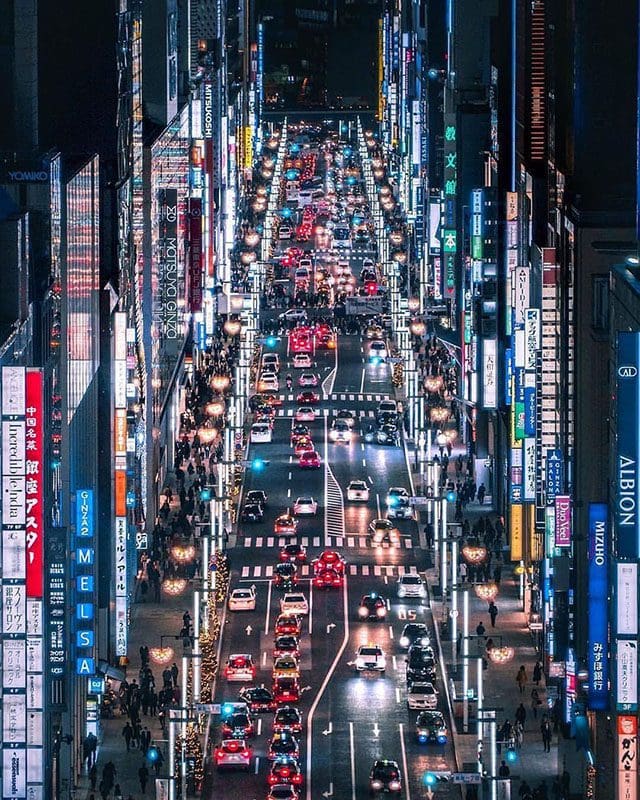 Louis Vuitton Japan recently unveiled a completely new look for its Namiki-dori Ginza store, the luxury retailer's second flagship to house a cafe. Its external design was inspired by the water surface of Tokyo Bay and the seven-floor building features two-layer glass walls resembling waves of water. The second floor is home to leather goods and fragrances, while the third floor and fourth levels offer women's and men's ready-to-wear and leather goods. The entire sixth floor is dedicated to a private salon for loyal customers, with the top floor housing the brand's second cafe, offering pastries and lattes decorated with the LV monogram, foam art, and seasonal desserts.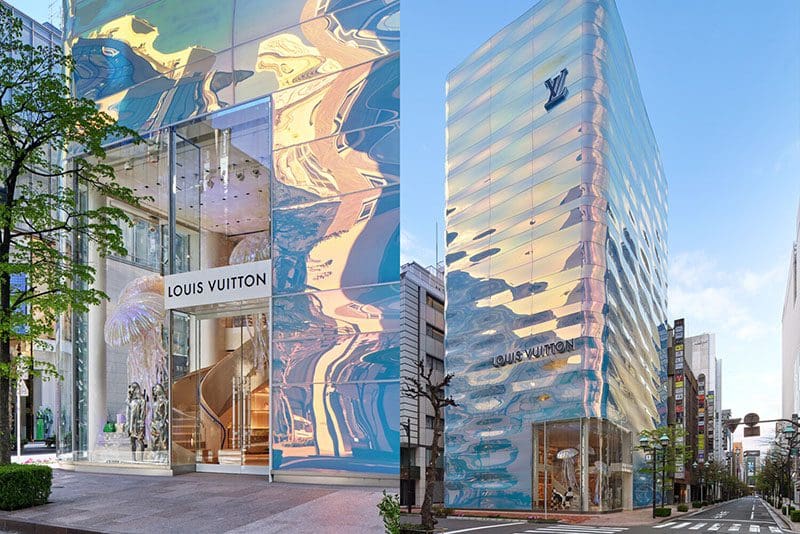 If you want a huge range of choices, a visit to Ginza SIX may be a great option. With over 240 of Japan's trendiest fashion stores, this is the largest shopping complex in Ginza since opening in 2017.
If you prioritise quality and want to experience unparalleled customer service at the quintessential high-end Japanese department store, then the iconic Ginza Mitsukoshi is a perfect choice. Since it opened in 1930, this 12 storied building represents the very best of what customer service can be. If you are one of the first to arrive when the store opens or are one of the last to leave when they close, don't be alarmed when all of the shop staff literally form lines to stand waiting to bow at you as you enter or leave the building. Many people arrive early before opening hours to experience this ritual that can make you feel like royalty.
Ginza home to three Michelin star restaurants (including the famous Sushi restaurant owned by Jiro). Even if you don't try the Michelin star restaurants, it may be wise to check the price on the menu before sitting down. If there is no price written on the menu, it's possible you could be in for quite a shock when you see the bill.   
OMOTESANDO DORI
Sometimes referred to as the Champs-Élysées of Tokyo, Omotesando Dori is a broad tree-lined street that runs from the upmarket area of Aoyama to the youthful and ultra-trendy area of Harajuku. To walk the length of this avenue (one side of the wide boulevard) without stopping would take you 15 minutes. However we guarantee you will be stopping as much like Ginza, it boasts one of the highest concentrations of designer stores in the world.
The countless flagship designer stores lining this street for an architectural showcase with the Louis Vuitton, Tod's, Dior stores in particular, having been built by world-famous architects. Even the flagship Apple store is an architectural treat, but none stand out quite like the Prada store, which is a bubble of convex/concave windows on the right side of the street.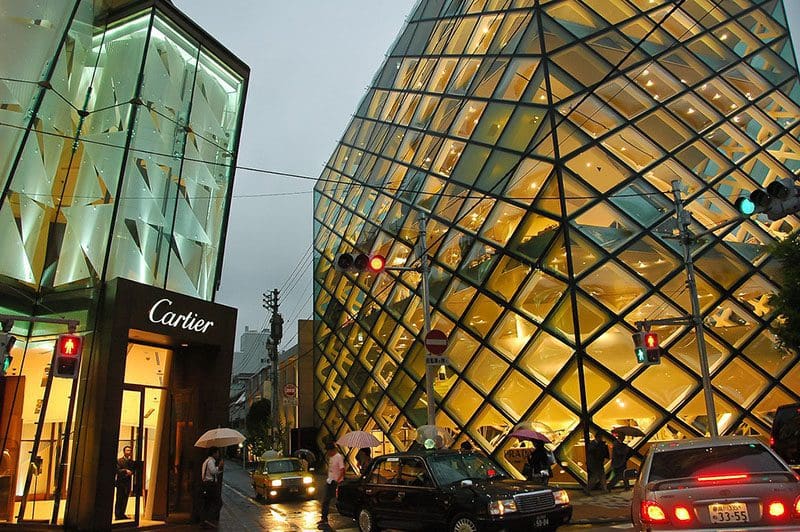 Non-Japanese designers such as Alexander McQueen and Stella McCartney amongst many more have seemingly invaded this trendy neighborhood. But if you are more interested in checking out Japanese designers, Issey Miyake offers two floors of cool, spacious displays. Rei Kawakubo's showcase for her daring—and constantly evolving—men's and women's designs. The goddess of Japanese fashion and one of the few females in the business when she started, Kawakubo has remained on the cutting edge of design for more than 4 decades. Yohji Yamamoto features unique, classically wearable clothes that are sparingly hung, flaunting the avant-garde interior space.
We recommend stepping off the street to check out the very funky Gyre complex that features a stunning building that houses a Chanel shop, a Bvlgari shop and a Bvlgari café on the second floor. It also hosts the first MoMA Design Store to open outside of New York City.
As if this incredible shopping street wasn't enough, you'll really have your finger on the pulse of cutting-edge fashion after a visit to Omotesando Hills, which is perhaps the crown jewel of sophisticated Tokyo fashion shopping. This luxury shopping complex, designed by famous Japanese architect, Ando Tadao, is an Omotesando landmark with its spiral walkway that ramps gently up over 6 stories (3 above ground and 3 beneath). Yves Saint Laurent and Jimmy Choo are amongst the 130 designer clothes, cosmetics and jewelry stores in Omotesando Hills.