Tsumago to Magome Traditional Samurai Postal Route
Spectacular scenery but word of warning – leave your baby behind!!
Myself, my husband (Japanese), and my soon to be two year old daughter arrived at Nagiso station after a one hour train ride from Nagoya. The journey from Nagoya takes in just enough of rice fields and nature to get you in the mood for a bit of rural Japan.
Upon arrival, we were met by our hotel shuttle service, Kisoji Hotel, one of the biggest hotels in the area. With time to just drop our bags, we headed off again to start the Tsumago to Magome hike. We foolishly assumed this might be manageable with a baby-buggy and a tired and worn out child, but how wrong were we! I suppose what made me think it might be ok was the answer I got from the lady at the tourist desk at Nagiso station. I asked her in Japanese what she thought about us bringing a buggy along the trail. In typical Japanese style, she hymned and hawed and did not give a straight answer but kept smiling and saying it will be difficult but not impossible. The hotel porters again gasped when they heard we were bringing our child, who is not even walking one year now. So, from the start, I have to say I was quite apprehensive.
Anyway, off we went to Tsumago, the start of the old postal pathway along the Nakasendo road. Once used as the main access route between Edo (now Tokyo) and Kyoto this was where you would have met Japan's samurai's, geisha, merchant workers, old villages, and lots of hills, mountains, and magnificent nature. I was quite surprised at how well they have preserved this typically traditional area. I expected more commercialism (being Japan) but in fact, only a handful of the shops were open and only one soba noodle restaurant, run by two old ladies, was open where we could grab a bite before starting our walk. The wooden houses and shops appeared untouched since their former Meiji years, which was refreshing to see in a country where infrastructural planning doesn't seem to exist. You will notice throughout Japan their lack of taste when it comes to buildings being plonked up anywhere, even if it hurts the eye. To be immersed in a village where we felt we had stepped back in time, having come from the city life, was other worldly in a way.
Concerned a little about time, we began our walk at 1pm. Bear in mind this usually takes people 3 hours with a normal load and the sun goes down before 5pm now in Japan (December). The sun was shining but it was still quite chilly. Ice remained on the shaded paths so bring your woollies if you plan to come in the Winter. It's still possible to do and is crisp and refreshing but the temperatures can change quite dramatically so layers are recommended.
The paths started off a bit bumpy which we thought may be the worst we might find. But after about 2km through hills and gravel we came to a cobbled stair way that seemed to go up for quite a distance. So, instead of carting the buggy up, we decided to take the road instead, which was the right decision although we missed the scenery we ended up at the same exit from the forest. This happened a few times before Masaki finally said for me to go along the real route as there was no point in both of us missing the action inside the hills.
So off I went on my own. Brought my emergencies just in case as you never know what can happen outdoors in Japan. Not too long I came across a bell. Shocked at what was written on the piece of paper below it, I reluctantly rang it, as I was told to do. This was to keep the bears away. At first I thought it might be a joke but then I remembered how a few years back some bears were found on the platform of Matsumoto station, not that far from where we were. So, I hurried my steps to try to catch up with my family. Instead of keeping the bears away I actually thought by ringing the bell I would wake them up from their Winter sleep. So as you can imagine my heart was now racing (and so were my feet)!
After about 1km through the forest, with not a sinner in sight, I finally ended up on a road again. That was me done going through the forests on my own. As soon as I met Masaki, I took over pushing the buggy (severely uphill) for the next few km. Eventually I came to a bus stop that said a bus will arrive in 3 minutes. So, I called Masaki to tell him I was giving up and taking the bus. Luckily he was almost at the same spot so we both managed to get the bus as far as Magome. Although we only had a further 3km to go, the uphill push with the buggy took its toll. This, along with a child that didn't stop crying almost for one hour, drove me to making this very weak decision. After boarding the bus though I must admit I was glad. There was a further 1km incline but the rest was a decline as far as Magome village.
Magome was slightly different to Tsumago. More shops, more food stalls – in a nut shell – more places to put our hands in your pockets to spend your yen! But it remains extremely quaint and traditional and definitely a highlight to the end of our adventure.
If I were to do it again I would chose from these two options:
1. Tsumago – Magome route
Spend more time in Tsumago enjoying the old buildings and museums. Walk for as much as possible, depending on our childs age and ability (children over 8 years old should be ok for the full walk, if they are used to walking. If not, then I expect they will tire quickly as there are quite a lot of ascends). When you find a bus stop (try to time the buses in advance as there are only a few that run throughout the day), make the right decision to wait or continue walking. There are quite a few bus stops along the way so you will be sure to get another one 15-20minutes later. This is what I did. Then, hop on the bus to Magome and enjoy your time here. You can wonder around both Magome and Tsumago for at least one hour each.
2. Magome – Tsumago route
The journey from Magome to Tsumago is definitely easier as most of the way is downhill (on the road anyway). So, if you have a buggy and really want to do the walk, do it the opposite way. Buses run to Magome from Nagiso station as well as Tsumago which are easy to get. Be sure to find out the times in advance as, again, there are not that many in one day. Because you are higher up in the mountains in Magome, the view is spectacular. Missing this at the end may be a slight disadvantage.

 

Tsumago feels like it should be the start for this reason but with a buggy, I wouldn't care!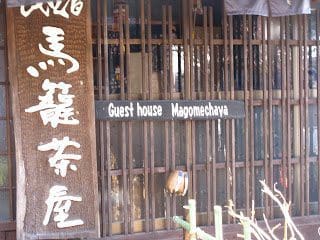 Hope this information helps the next family that decides to go. I highly recommend this trip for all ages. If you don't want to do the walk at all that's also possible. Most Japanese come in bus loads and stop at both villages by chartered coaches. So don't feel bad. They are still really worth visiting and not that difficult to get to you on your own. I also recommend for the budget traveller to stay in the villages themselves. There are a few minshiku's we can book for you. However, the huge benefit of staying at Kisoji is the amazing hot spring baths they have. You can chose between about 4 or 5 outdoor baths, an outdoor sauna, and a large indoor stone bath.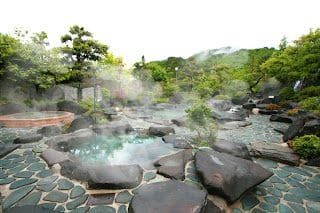 The buffet dinner is also very good (as far as buffets go in Japan) rather than kaiseki – if you are tired of eating traditional Japanese food. Selection of beef (roast/steak), smoked salmon, curry's, pasta, salads, oysters, and more importantly – cakes and icecream! All you can eat!