Top 5 Reasons to choose Japan for Winter Holidays
Top 5 Reasons to choose Japan for Winter Holidays
Winter in Japan has a special magic to it, one you cannot experience any other time of the year.
With far fewer tourists means you can avoid the seasonal crowds and long queues, so often associated with the cherry blossom or Autumn leaf changing seasons. Hot springs and speciality dishes from different regions are best served in the Winter. From December onwards you can see the cities light up with state of the art Christmas illumination. Take a day trip to the ski slopes from Tokyo, chill out in the outdoor onsens found all over Japan, and ride through each place on the high speed bullet trains like a local! Although you will need to bring your Winter coat, day time is usually pleasant with crisp fresh blue skies.
1, Ryokan Stays and Onsens
 There is nothing more rewarding than an early morning or late evening dip in the natural hot springs at any time of the year, but most magical in the Winter. A soak in the healing mineral waters will make your stiff shoulders. Combined with a stay in a traditional Japanese ryokan, you have the makings of an unforgettable trip. Fortunately, similar to ski resorts, you are never too far from one.
   2,
 World Class Ski Resorts
 What we love most about skiing in Japan is that you are never too far from a slope, whether you are in Tokyo or Kyoto, you can be guaranteed easy access to the big resorts. You can expect top quality snow (powder at its best) with facilities and service (many English speaking) that cannot be beaten. Japan's mountains receive the best snow fall in the world while temperatures average at between -5 to -10 degrees centigrade. Compare this to Europe and US, consider this warm.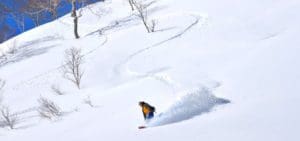 3,
Seasonal Winter Cuisine
 For any food lover out there, Japan is heaven with Winter arguably the best time of year to visit. A trip to the local fish markets, buzzing with activity, is the perfect chance to sample the best seafood and sushi in the world. From oysters in Hiroshima to giant crabs and BBQ lamb in Hokkaido, reading menus in Japan is always a treat. Meet the lively locals at your nearest 'Izakaya' (Japanese style pub). Accompanied with warm 'sake' (rice wine), sample hearty wholesome 'Oden' (slow cooked simmered vegetables, eggs, tofu, boiled in seasoned broth) and 'Nabe'(stew cooked and shared with family and friends at a table) which both come out in force over the winter months in the home or outside.
 Fourth on our list for Winter highlights is getting out of the cities and resort towns to meet the wild snow monkeys in Nagano or the red crowned cranes in Hokkaido. Although you can access this all year round, it is not until the harsh Winter weather approaches that you will find an abundant amount of monkeys bathing in the outdoor onsen, with snow capped trees and rocks in the background .If you chose Hokkaido as your Winter destination then we highly recommend venturing to the untouched marshes in Eastern Hokkaido, home to the symbolic red crowned cranes.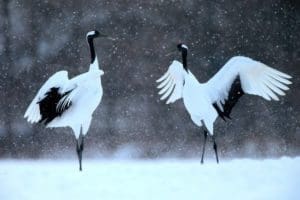 5, Sapporo Snow Festival  ( Yuki Matsuri )
 If you can manage to get to Japan in February then a trip to the Snow Festival located in Sapporo, Hokkaido is a must. Advance booking is essential as this mush anticipated event gets booked out months beforehand. Besides enjoying the array of painstakingly sculptured snow creations during the day, the festival stays alive in   the evenings with magnificent illumination, concerts, food stalls, ice bars and much more to expect.