Top 10 Islands to Visit in Japan
1) Amami Oshima
Amami Oshima is a tropical island paradise and one of the largest elevated coralline islands in Kagoshima prefecture, close to Yoron yet on a bigger scale. The colourful coral is contained in cobalt seas which surround the dramatic coastlines and lush tropical forests, home to the native Amami rabbit and jay.
In addition to the beautiful beaches explore the artwork of Tanaka Isson, a Nihonga painter who flourished during the Showa period. The Tanaka Isson Memorial Art Museum is dedicated to his life and work. Isson is most famous for his paintings that depict local birds and flowers.
The island is also a key producer of a special type of silk, Tsumugi Silk Pongee. With origins dating back 1,300 years, it is still dyed using locally sourced mud dyes. Tsumugi yarn is meticulously handwoven and takes over six months to develop the durable Pongee fabric.
Unique Japan Tours featuring Amami Oshima Include:
https://www.uniquejapantours.com/product/featured/traditional-tropical-japan-2/
&
https://www.uniquejapantours.com/product/featured/traditional-tropical-japan/
2) Ishigaki
The Yaeyama Islands of Okinawa are some of the most scenic and home to excellent beaches. The group consists of Iriomote, Taketomi, and Ishigaki, which is the most well-known and popular (see map). Ishigaki's Kabira Bay is too beautiful to be believed. The clear turquoise waters and soft white sand are dotted with small rocky islands topped with vibrant green foliage. A place of designated beauty, with black pearls cultivated in the bay.
Visit the Ishigaki-Yaki Pottery Studio, to see local ceramicists at work and get inspired to try making ceramics. Ishigaki-Yaki is renowned across the globe for its unique form of pottery with a glossy black surface and hypnotic electric blue colouring. You can also find out more information in our 8 Best Ceramic Classes in Japan for English Speakers.
Being a popular destination Ishigaki has plenty of family-friendly attractions. Ishigaki Yaima Village is one highlight. Witness how people lived during rule of the Ryukyu Kingdom and visit the lovingly preserved houses with red tiled rooves. Look out for squirrel monkeys in tropical fruit trees and learn to dance like a local to the three stringed Sanshin banjo.
Unique Japan Tours featuring Ishigaki Include:
https://www.uniquejapantours.com/product/featured/japan-tropical-treat-tour/
3) Okinawa
Okinawa Island is the largest, most well-known, and accessible of all Japan's tropical islands. Okinawa is also the largest island of Okinawa Prefecture, which consists of a cluster of islands. Naha, the capital of Okinawa, was originally called Naba and is named after a large mushroom shaped stone. Though no longer visible, there are other stone age discoveries nearby which point to the rich history to explore.
Naha has long been a laid-back escape for mainland Japanese, but it was once a commercial centre for the Ryukyu Kingdom. At the Okinawa Prefectural Museum, you can discover how Okinawa's proximity to Asian neighbours, Taiwan, and China has strongly shaped the culture. The influence of the Ryukyu Kingdom is ever present and can be visible in the island's culinary world, daily life, architecture, and spirituality. A visit to Okinawa is an interesting foray into Japan's diverse culture and history.
Okinawa island is also home to a multitude of beaches. On the island you can find Manza beach where you can walk the 300 meters of soft sand, visit the scenic point of Cape Manzamo, or parasail to view the East China Sea. In addition, Kouri beach has two heart shaped rocks, Emerald beach has gem-coloured waters, and Zappa beach a beautiful sunset near Cape Zappa lighthouse. Clearly there is a beach for every occasion.
4) Iriomote
Iriomote is the second-largest island in Okinawa, Japan's tropical pocket of paradise. Though gaining popularity it still feels untouched. Its rugged untamed landmass is fringed by picturesque beaches.
A lush jungle covers most of the island where the rare and elusive Iriomote Yamaneko mountain cat, roams the mangrove forest at night. Discover more about this endangered species at the Iromote Wildlife Conservation Center.
Yubujima is a small sand island 500 meters/⅓ mile from the coast. An interesting way to get across the narrow strait is by the strong water buffalo-powered carts. Once serenaded by the local Sanshin banjo you can be transported to subtropical botanical gardens, beautiful beaches, and coral reefs.
Unique Japan Tours featuring Iriomote Include:
https://www.uniquejapantours.com/product/featured/japan-tropical-treat-tour/
5) Naoshima
Naoshima is fast becoming one of the nation's most famous must-visit destinations. It is home to a unique collection of immersive art exhibits spearheaded by Benesse, the Japanese publishing company. From architecture designed by Japanese iconic Tadao Ando, to public outdoor sculptures by Yayoi Kusama, and immersive installations by James Turrell, there is something for all lovers of art, culture, and design.
Known colloquially as Japan's Art Island, Naoshima it is visited by 800,000 visitors from around the globe. One of the biggest draws is its illusiveness, in a world of social media oversaturation, many of the exhibits are barred from being shared outside the gallery walls. To see and experience what Naoshima has to offer, you must see it.
Unique Japan Tours featuring Naoshima Include:
https://www.uniquejapantours.com/product/featured/hidden-treasures-of-japan/
&
https://www.uniquejapantours.com/product/give-a-gift/lost-in-japan/
6) Yakushima
Yakushima in Kagoshima prefecture is a mossy, subtropical island, and home to a collection of ancient cedar trees called Yakusugi. Some Jomon Sugi are estimated to be 1,000 to 7,000 years old. This natural wonder is the first UNESCO heritage site in Japan and the island that inspired the lush, enchanting backdrop for the legendary Ghibli film Princess Mononoke.
The island is known for its cedar crafts. Fallen Yakusugi tree trunks are collected in the forest for local expert craftsmen to transform into utensils and incredible decorative sculptures. Three thirds of the island is forested, so it is not surprising that the Goshinzan festival on the Miyanoura river each summer is held to pay homage to the mountain god.
In contrast Yakushima contains many microclimates, valleys, ravines, and waterfalls to be explored. Take a banana leaf wrapped bento or return to dine on flying fish and local shochu. That is not all this unique island has to offer, each May to July Nagata Inaka Beach is the remote location for the largest sea turtle nesting site. This is one of the Best Places to Enjoy the Japanese Countryside.
Unique Japan Tours featuring Yakushima Include:
https://www.uniquejapantours.com/product/self-guided/wonders-of-the-west/
 7) Miyajima Island
Close to Hiroshima you can find Miyajima also called Shrine Island, where iconic red wooden gates are submerged. At high tide, the giant Torii appear as though they are floating, land and sea contrast green and blue, which has captured the hearts of visitors for centuries.
These gates lead to the sacred Itsukushima, where a shrine has existed since the 6th century. Mt. Misen looks down through forested hillsides to a five storied pagoda and many sanctuaries, now protected world heritage sites. Aesthetic and spiritual beliefs combine at this Shinto shrine originally designed to honour nature and enshrine mountain gods.
Here you can also discover the cultural tradition that depicts rich folk history using understated movements behind elaborate masks. Since 1568, Noh performers have floated on the stage at high tide, creating an enigmatic atmosphere for onlookers at Itsukushima beach.
Learn about the historic merchant corridor along this coast at the Miyajima Museum of History and Folklore. In an old merchant house, see how these savvy business people used to live, and admire the tools they used to go about their daily lives.
Unique Japan Tours featuring Miyajima Include:
https://www.uniquejapantours.com/product/featured/japan-discovered-no1-best-selling-japan-tour/
8) Sado Island
Lying off the coast of mainland Niigata prefecture, Sado Island is one of the larger Japanese islands on this list. A strong cultural legacy, as a place of exile for Emperor Juntoku, the Buddhist monk Nichiren, and Zeami Motokiyo, the man who founded Noh theatre.
On Sado Island the beat of the drum echoes in hearts at the Taiko Centre. Grab your sticks and use basic rhythms to try out small Taiko. Then experience the powerful Kodo drumming ensemble perform large Odaiko in synchronization. They impress all at the Earth Celebration Festival in August that also brings performers from across the globe.
Another historical curiosity is Sado Kinzan, the nation's most productive gold mine. It is said it funded the Tokugawa Shogunate and during its peak, it produced half a tonne of gold annually. Guests can walk through tunnels with life sized recreations of Edo period miners and pan for gold.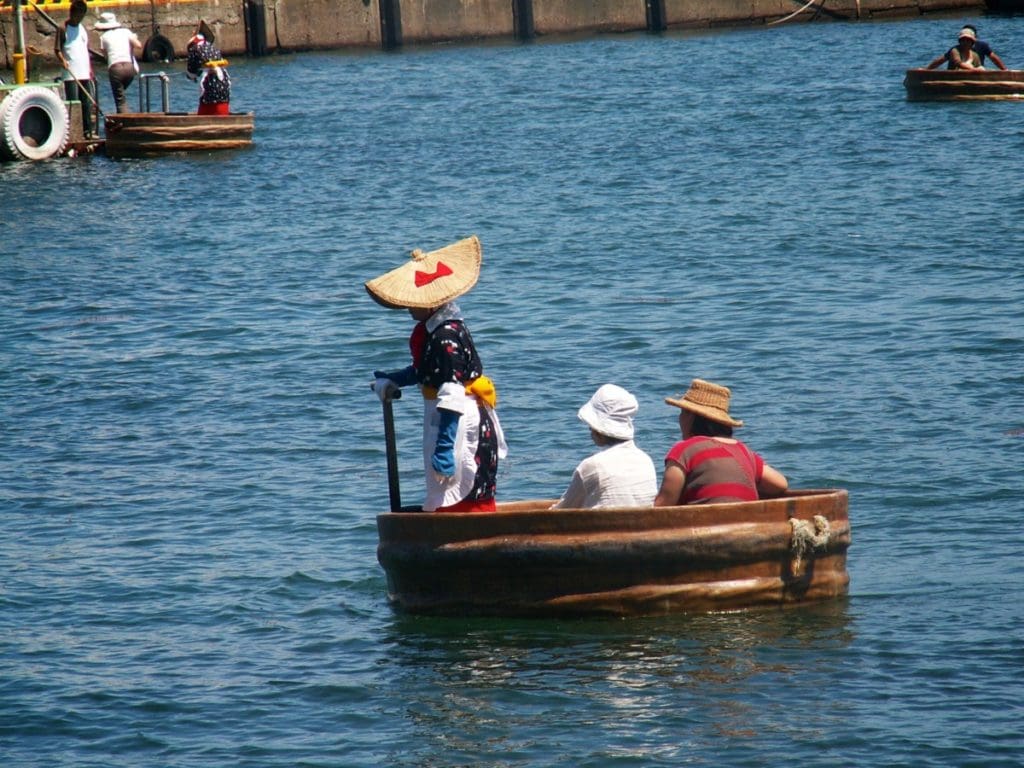 Unique Japan Tours featuring Sado Island Include:
9) Taketomi Island
The small island of Taketomi is a short 10-minute ferry ride from Ishigaki and is well worth the day trip or overnight stay to step back in time surrounded by coral reefs and white beaches.
Taketomi is part of the Iriomote Ishigaki National Park and is known for its traditional Okinawan houses, stone walls, and sandy streets. Some houses are now home to atmospheric restaurants and shops with local produce and crafts. Strict building rules ensure traditional hand-packed stone walls are all around, and this keeps the village frozen in time.
Take an ox-cart ride through the quaint village to the gentle rocking pace of the buffalos. The driver usually plays the Sanshin banjo along to local island songs. For a faster way to see the natural scenery walk or rent a bicycle to travel through the village's white sand roads and to the nearby beaches along the western shore of the island. Afterwards relax at the beach, or snorkel down into the sea below.
Unique Japan Tours featuring Taketomi Island Include:
https://www.uniquejapantours.com/product/featured/japan-tropical-treat-tour/
10) Aoshima
Known as Cat Island, Aoshima is a quiet island that sits just off the coast of Ehime prefecture. With a cat to human ration of eight to one, this is a cat lovers paradise. Originally introduced to assist the local Fishermen, most of the two hundred cats are now feral. Since the Sardine fishing trade on the island declined so has the number of residents.
Visitors are advised to bring supplies and to take trash home as this feline island does not have many shops or accommodation. The island is 5km to walk, in addition to shrines look out for 5th century tumuli historic sites, and the rock formation shaped like glasses, Megane Iwa.