Top 10 Cultural Festivals in Japan
1) Takayama Spring / Autumn Festival
Held twice a year in April & October
Takayama Festival in Gifu is set in the Japanese Alps and is one of Japan's most beautiful festivals. The surrounding mountains Hida Takayama are the backdrop to two festivals at different shrines, one in spring and autumn.
The springtime Sanno Festival heralds the joy of spring and reminds locals to pray for peace and a good harvest at the Hie Shrine. Enjoy cherry blossom in full bloom and join the crowds dressed in flat straw hats and hakama pants worn over kimono. Karakuri doll marionette performances create magic as they entertain young and old.
Hachimangu Festival is a thanksgiving ceremony held in autumn and is known for its yatai-hikimawashi event.  Four large wheeled yatai floats are illuminated by 100 lanterns and paraded through Gifu's Edo era streets. The floats date back to the 17th century and are a symbol of economic might with intricate designs made by highly skilled artisans.
Takayama festivals join Kyoto's Gion Festival, and Saitama's Chichibu Night Festival as three most deserved festivals for the status of government designated intangible folklore cultural asset in all of Japan.
Unique Japan Trips featuring the Takayama Festival include:
2) Nebuta Festival (Aomori)
Held in early August
Aomori Nebuta Festival is one of the most famous summer festivals in Tohoku. Origins are close to Tanabata star festival, with lanterns turning into nebuta fire festival. Three million visitors are attracted to this event due to the vibrant warlord shaped lantern floats (nebuta). A team of 300 people spend three months to build a float, that can reach up to five metres high, nine metres wide and seven metres deep. Aomori Nebuta Festival is joined by the Akita Kanto Festival, and the Sendai Tanabata Festival in attracting millions of visitors each year, making them the three best festivals in Tohoku region.
This festival runs from August second to seventh, with about 15 children's nebuta and 20 large nebuta parade to chants of "Rassera!" join us! By wearing the Haneto costume with floral triangular straw hats you too can join hundreds of dancers as they follow the flutes to the rhythmic Taiko of the Nebuta bayashi bands. On the final evening fireworks illuminate as Nebuta are released into Aomori Bay to wash away sins and pray for a healthy long life.
This is one of two major Tohoku summer festivals that feature on our new Tohoku Trails small group tours.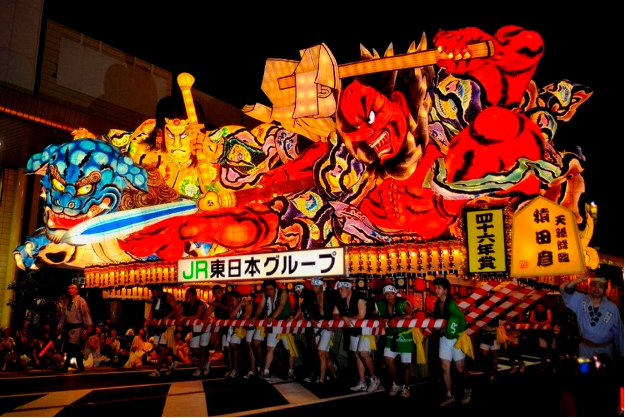 Unique Japan Trips featuring the Nebuta Festival include:
Tohoku Trails (Small Group Escorted Tour)
3) Sapporo Snow Festival
Held in early February
In winter, Hokkaido, the northernmost area of Japan, is abundant with snow. Sapporo Yuki Matsuri began at Odori Park in 1950 when local high school students used that snow to make six sculptures. Now it is one of the biggest snow and ice festivals in the world, with an international snow sculpture contest and more than two million visitors every year.
The many festival sites can be viewed from Sapporo TV Tower and in every location the impressive sculptures leave the crowd in awe at the skill required to create them. At night Susukino site features illuminated snow and ice sculptures to create a magical atmosphere. Dress up warm to enjoy great food, concerts, and go to an ice bar.
Snow rides are located at Tsudome the Sapporo Community Dome for families to enjoy a cool day out. Other popular activities at the festival include snowball fights, snow slides, a huge ice rink and curling games.
Unique Japan Trips featuring the Sapporo Snow Festival include:
Journey to the East (Small Group Escorted Tour)
4) Michinoku Yosakoi Festival (Sendai)
Held in mid-October
Yosakoi is a form of traditional dance that began in 1954 and bursts with energy. Every October festivals are held around Japan, and Sendai's Michinoku Yosakoi is third largest. The first festival took place in Michinoku in 1998 and it has been a strong fixture on the event calendar since.
During the festival, more than 150 teams with over 5,000 dancers from across Japan gather in Sendai to bring passion and energy for Yosokoi spirit. Team costumes are unique, though all must incorporate a verse of a Tohoku folk song to their dynamic performance to express the joy of life using the entire body.
This is an exciting spectacle as a variety of dancers move around Kotodai Park and Jozenji Avenue. Visit the streets filled with the ringing of naruko clappers originally used to scare birds from rice fields, and enjoy the extraordinary sight backed by a fusion of rock and traditional melodies.
Unique Japan Trips featuring the Michinoku Yosakoi Festival include:
Tohoku Trails (Small Group Escorted Tour)
5) Awa Odori Dance Festival
Held in mid-August
August in Japan is the momentous time of Obon, when the spirits of those who have died temporarily return to earth and ancestors are invited back into homes.   To celebrate, a dance known as Bon Odori is done in different temples all over Japan and it is a colourful and vibrant dance that also spills onto the streets and grown into big festivals. Awa Odori is a specialty of this dance, born in Tokushima on the island of Shikoku 400 years ago.
Although Tokushima is a remote area, Awa Odori has become the biggest traditional dance festival in Japan and draws over a million visitors every summer. This highly sought-after event is primarily held in the evening as dancers take to the streets after sunset. This is, at the core a humorous and fun competition between teams. Each team has its own costume combining a Yukata, cotton summer kimono and iconic ami gasa straw hat.
Everyone is encouraged to participate as the dance of the Awa Odori is called "fool's dance" having originated when several soldiers began dancing drunk in front of a castle after winning a battle. Dancer's repeat a song "The dancers are fools, and the watchers are fools. Since both are fools, why not dance?"  Who can argue with that?
Unique Japan Trips featuring the Awa Odori Dance Festival include:
6) Welcome of the Gods' Festival in Izumo
Held on January 3rd (but finishes at noon, so get there early)
1,300 years ago, Izumo was one of the most important cities in Japan. Its history is deeply entwined with myths and religious figures who had love affairs and fought each other much like the ancient Greek Gods did. Although much of the population has migrated to larger cities, Izumo Taisha the main attraction gathers more than two million to the land of the gods.
In the Japanese calendar, the 10th lunar month is called Kanna-zuki, a month of no Gods. In Izumo, the same month is called Kamiari-zuki, which means the month of the Gods, due to the belief that approximately eight million Gods of the Shinto religion are welcomed from November 21 to discuss the happenings of the year. A ceremony is held at Inasa-no-hama beach before they take rest in the Shrine.
Izumo is also famous for some of its culinary delights. Izumo Soba buckwheat noodles are a type of wari-go soba, stacked in three layers of lacquered bowls, each with a different sauce and toppings. Shimane wagyu is famous high-end beef best eaten as yaki-niku like Korean BBQ style. Other delicacies are grilled squid and the acquired taste of sazae, the horned turban sea snail that you can follow by some soft sweet potato ice cream. Then indulge in some wine tasting by taking a tour of Shimane Winery to view the wine-making process.
North of Izumo Taisha is Hinomisaki Lighthouse, the tallest stone lighthouse in Asia, perched at the rocky shore with an amazing view of the lush green hilltops and wide-open sea. Tachikue Gorge is a scenic spot to the south. It features several trails traversing through the gorge while spotting various hidden shrines along the way. Stumble into a clearing with a multitude of stone Arhat Buddhist figures, unique statues representing the disciples who have reached enlightenment.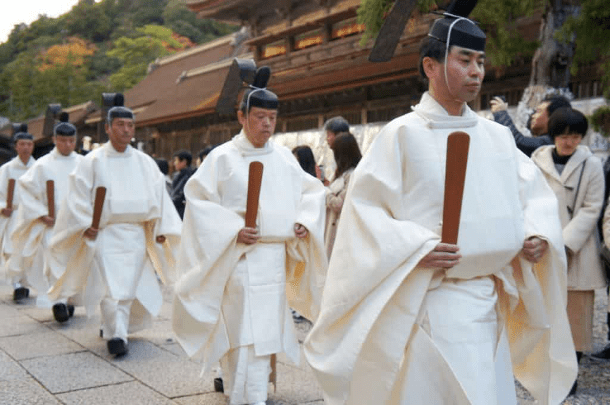 Unique Japan Trips featuring the Welcome of the Gods' Festival include:
Gardens & Galleries of Japan (Small Group Escorted Tours)
7) Tanabata Festival (Sendai)
Held on August 6th~8th
This festival is a Japanese legend of Chinese origin about two lovers who were separated each side of the milky way. Orihime and Hikobushi are represented by the stars Vega and Altair. To ease the pain of separation the two lovers were allowed to meet just once a year. This summer festival is celebrated all over Japan, but by far the most extensive and impressive celebrations take place in Sendai city. During the festival thousands of decorations are hung from the pedestrian shopping arcades all over the city, which makes for a truly unique atmosphere in the city centre.
Many people write a wish on paper and hang it on branches. The opening night of the festival features a hugely impressive fireworks display, from which there are many great vantage points around the city. Countless food and drink stalls serve festival foods and alcohol to the many thousands of festival attendees. Many fellow festival attendees choose to wear their colouful "yukata" (type of symmer Kimono) and wear wooden "geta" (traditional wooden sandles) which further adds to that uniquely Japanese summer festival atmosphere.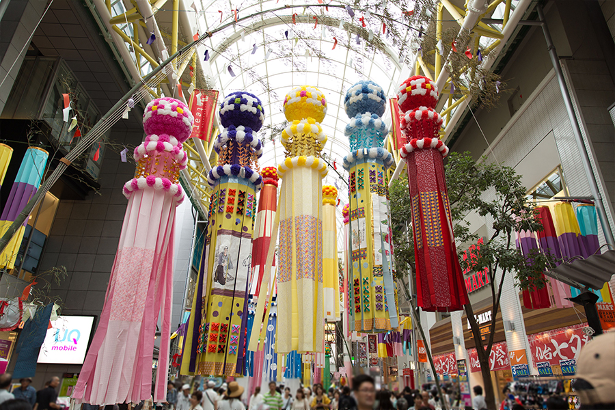 Unique Japan Trips featuring the Tanabata Festival include:
Tohoku Trails (Small Group Escorted Tour)
8) Sado Island Earth Celebration
Held in Mid-August
The Earth Celebration is an annual music festival by the internationally acclaimed Kodo taiko group which is based on Sado Island. Each year the festival features different guest artists who perform in collaboration with Kodo. The three day event is held in mid to late August in and around Ogi Town. Thousands of people come from all over Japan and the world to enjoy the festival's many events.
The Harbour Market at Ogi Harbor hosts evening outdoor concerts and some fringe events during the day, smaller concerts are also held at Shukunegi Community Hall. The Harbor Market also features dozens of small shops and food stands open from morning to evening. Another aspect of the festival are various workshops, such as taiko drumming and traditional dance workshops.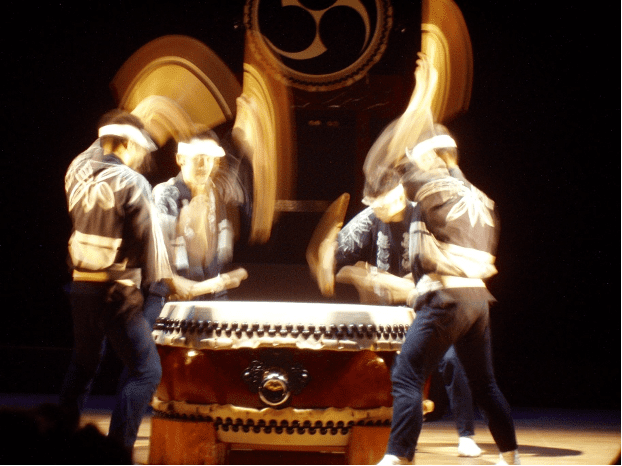 Unique Japan Trips featuring the Sado Island Earth Celebration Festival include:
Northern Trail (Self-Guided Adventure)
9) Koyasan Candle Festival
Held on August 13th
Obon is a time when welcoming fires, known as mukaebi, are lit in front of houses to guide ancestral spirits back home. Mandokuyoe Candle Festival on Mount Koya creates a different spiritual sphere. On August 13, the walk up to sacred Okunoin Temple is illuminated by the flickering flames of around 100,000 candles directing souls back to where they reside.
Candles are placed from the Ichinohashi Bridge, the entrance to the sacred area, and all along the pilgrim's road. Follow along the pale floating path in darkness to a ceremony at Torodo Hall to commemorate all who rest at this ancient religious site.
Unique Japan Trips featuring the Koyasan Candle Festival include:
Hidden Treasures (Small Group Escorted Tours)
10)
Held on December 29th ~ January 1st
Ise Grand Shrine has been home to the ancestral deity of the Imperial Family for around 2,000 years. It is widely regarded as the most important Shinto shrine, called Jingu. The status of Ise Jingu Grand Shrine was further indicated by a breakout trip for seven world leaders during the 42nd G7 summit in May 2016.
A highlight of New Year in Japan is the custom of Hatsumode, which brings millions of visitors to popular shrines for three days from December 29. Hatsumode is your first chance be introduced to the deity in residence at a Shinto Shrine and to make a good impression for an auspicious start and smooth progression for the year to come.
New Year Hatsumode festivities at Ise Grand Shrine have hosted 2.7 million visitors. Kotai is the central location at Ise and 2km apart are Naiku and Geku, encompassing a cluster of 125 shrines. Worshippers tend to pray for the prosperity of Japan's Imperial Family, world peace, and a plentiful harvest.
As crowds gather for this religious event at the most popular shrines. Many groups of friends meet up and celebrate prior to the visit. It is a festival atmosphere with the grounds of the shrines, and surrounding streets well furnished with festival staples such as yakisoba, yakitori, as well as hot dogs, candy floss, and toys for kids.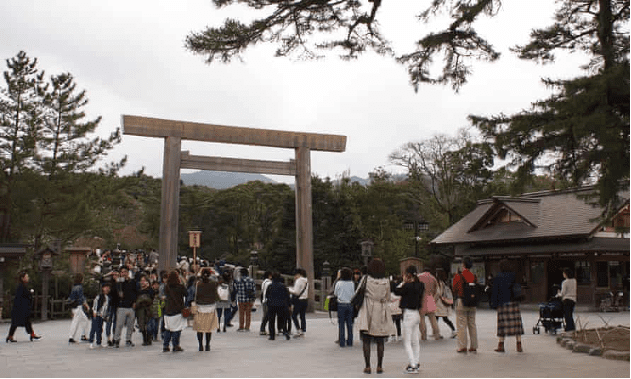 Unique Japan Trips featuring the New Years Day Ise Shrine Festival include:
Hidden Treasures (Small Group Escorted Tours)