Three Great Gardens of Japan!
In Japan, there is a culture of listing things as "the three famous ____ of Japan". These range from the "three famous views" to the "three famous onsens" or even the "three great festivals". There is no particular order within the list other than to say they are the "top three in Japan". One of the popular lists in this collection is the "three great gardens of Japan" (日本三名園 Nihon Sanmeien). It is worth noting, the significance of this listing does not necessarily mean they are the three finest or three best gardens of Japan, but three great gardens in terms of their large scale and traditional qualities combined.
The three famous gardens are said to express the "Setsugekka", which translates into snow, moon and flowers, the three most beautiful aspects of nature, through different times of the year. In particular, Kenroku-en Garden (above-left image) is said to best showcase winter beauty, Kiraku-en Garden (above-middle image) with its 3000 pink flowering plum blossoms best shows the beauty of spring and Koraku-en garden (above-right image) viewed from the wooden frames of it on-site structure best showcases the variety of colours to be seen during the changing of the leave in Autumn.
Our deluxe  Gardens & Galleries of Japan Small Group Tour features Kenrokuen Garden amongst others. To learn more about this tour, to learn about the difference bewteen western and Japanese gardens, and to learn about various other gardens you will be introduced to on this tour, you may wish to watch our recent webinar featuring our Japanese gardening expertis outling this 12 day tour of Japan.
1) Kenroku-en in Kanazawa
A favourite of most international tourists, Kenroku-en dates back to 1676. With approximately 8,750 trees and 183 species of plants in total, Kenrokuen is every garden enthusiast's dream. It consists of ponds, streams, rocks, mounds, trees, grassy expanses, and footpaths.
During the Edo era (1603-1867), garden design departed from the Zen minimalism of the preceding Muromachi era, as the ruling class rediscovered its likings for extravagance and recreation. The product was large strolling gardens with ponds, islands, tea houses and artificial hills that could be enjoyed from a variety of viewpoints along a circular trail.
Developed fastidiously over two full centuries, it has been maintained meticulously ever since. The spacious grounds formed the outer garden of the stunning Kanazawa castle, where the Maeda family ruled for over two centuries during the construction of the garden. Originally the preserve of the feudal ruling class and their guests, it was kept private until it opened to the public in 1871.
Of the three famous gardens in Japan, Kenroku-en is said to best showcase winter beauty; but features a variety of flowering trees which provide the garden with a different look for each season. Whilst there are times of peak bloom in spring and so on, visitors can appreciate its stunning views during any month of the year.
Different sections of the garden use gardening techniques from different periods and incorporate various features to create a unique "flow" throughout the garden. These features (ponds, hills, streams) have special symbolic resonance based cultural aesthetics derived from classical literature and art. The Kotoji-toro stone lantern is one such example, designed to resemble the bridge on a koto, a stringed musical instrument that is the national instrument of Japan.
Visitors enjoy roaming around the garden, walking along the circular path with large ponds, watching the meandering streams, scenic hills, stunning villas and tea houses surrounded by old trees. And given the absence of any tall buildings on the horizon,  you can easily lose yourself in this fascinating old world of beauty and colour away from any modern reality.
Renowned for its fusion of the conflicting elements of spaciousness and seclusion, the garden is laid out with the theme of unbroken space, allowing one to see a good portion of it from anywhere on the grounds. However, there are also many nooks where one can enjoy the feeling of solitude amidst the open space. A popular attraction is the Kaiseki pagoda on the island in the center of Hisago-ike pond.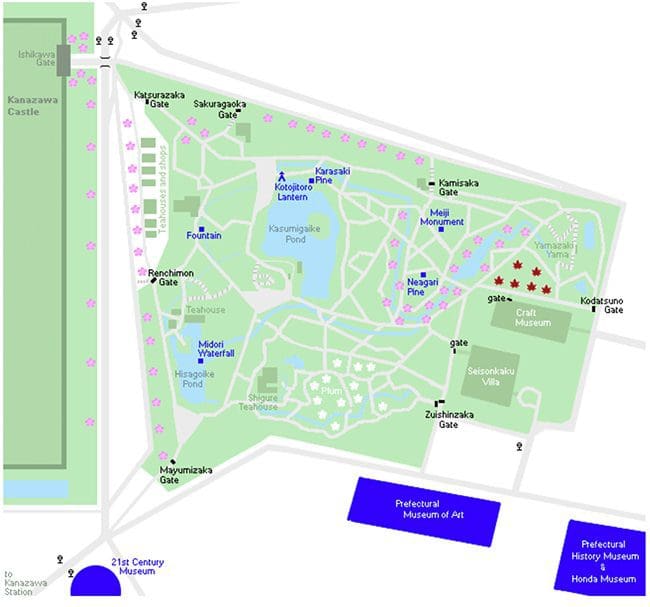 Kenroku-en means "garden which combines six characteristics" – the six aspects considered important in the notion of an ideal garden:
Spaciousness
Serenity
Venerability
Scenic views
Subtle design
Coolness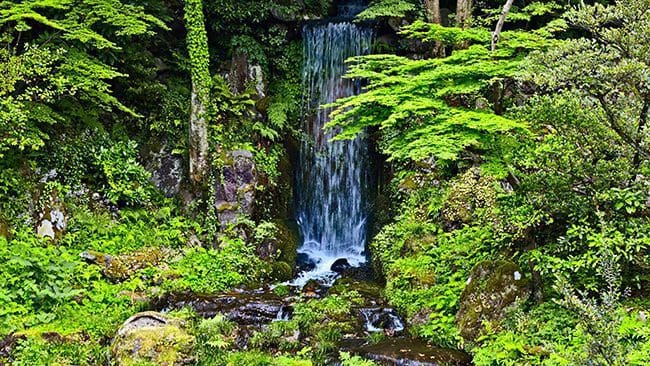 2) Kairaku-en Garden in Mito
Built relatively recently in 1841 by the local lord Tokugawa Nariaki Kairaku-en stands apart from anything else in Japan. Unlike the other two of the "Three Great Gardens of Japan", Kairaku-en was not kept as the private reserve of the feudal ruling class and their associates for hundreds of years before opening up to the public. Rather Kairaku-en means "a garden of everybody's pleasure" and was one of the first gardens to be built with the intention of making it public. This was significant as it served as a blueprint that helped to precipitate the opening up of other previously private gardens in Japan. This novel concept lead to the development of public parks in Japan.
Ranked among Japan's three finest landscape gardens, Kairakuen is most famous for its over 3,000 plum trees. Of the "Three Famous Gardens in Japan", Kairaku-en is said to best represent the spirit and colours of the spring season.

There are over 100 different species of Ume (plum) trees in the 13 hectres of garden grounds, each with their own variation of white, pink and red colouration, spread throughout half the garden.

Unsurprisingly, the peak season to visit this garden is during the Plum blossom period which tends to occur from late February to the end of March.

Other seasonal plants such as rape blossoms and cosmos also feature amongst the cedar woods and bamboo grove.

Azaleas also feature in the garden and are usually in full bloom from late April to early May and can be best seen looking down from the third floor of Kobuntei, the primary residence in the park.Azaleas also feature in the garden. Views of Senba lake can be also be enjoyed from this vantage point.
Feudal Lord Nariakai Tokugawa created the garden as a park for feudal lords and commoners. He designed Kairakuen for education, training, and relaxation

3) Koraku-en Garden in Okayama
One of the "Three Famous Gardens of Japan", Koraku-en is said to best represent the beauty of Autumn.
Located on the north side of Okayama Castle, the Korakuen was completed in 1700 and incorporates the surrounding hills and castle into the design.
Koraku-en means "garden's of pleasure after", which is a reference to a saying attributed to Confucious explaining that a wise ruler must attend to his subjects' needs first, and only then should he consider his own interests. The views of the garden from the castle are breathtaking and it is easy to transport yourself back in time to imagine what the feudal lords must have been feeling when looking out over their wonderful creation.
Also, constructed in the Edo period, the garden was designed for strolling around and permits visitors to enjoy discovering different looks and vistas from hidden vantage points that need to be experienced first hand to be truly appreciated.
The experience brings a sense of peace and tranquility to anyone who spends some time walking through this classic traditional Japanese garden.
The garden is surrounded by a water filled moat, it incorporates a pond internally and features a man-made stream that flows for 650m through the garden. Yuishinzan Hill offers stunning views of plants like azaleas and rhododendrons and seasonal red and white flowers.
Special scenic spots in Korakuen include Enyo-tei House – the most important structure in the garden. This was destroyed in a fire during the second world war but restored using original materials to the exact specifications as it stood for hundreds of years.
Another famous feature is Kayo-no-ike Pond – famous for its white flowers of daimyo lotuses (known as 'universe').
Yet another popular feature of the extensive garden is Chishio-no-mori Grove; with its maple trees that are especially beautiful in spring when they are in bud.
By early June, the Japanese Iris Garden. complete with its Yatsuhashi Bridge becomes a stunning sight with it puple and white blooms.
In Autumn during Koyou (changing of the leaves) period, the garden truly becomes breathtaking and offers unrivalled views of the Autumn leaf colours along its many paths and bridges.
Any trip to Japan will no doubt include a visit to some Japanese garden, but for those particularly interested in experiencing the best Japan has to offer on a small group tour, with an English speaking knowledgeable guide accompanying throughout, you might want to consider our "Gardens of Japan" tour. The tour takes in several of the best examples of Japanese gardens but also so much more besides. Check out our travel webinar where Andrew and Tomo outlined our 'Gardens & Galleries of Japan' small group tour. The tour is a once-in-a-lifetime tour taking you to the best Japanese Gardens and Award-Winning Art Galleries. Experience the incredible beauty of these gardens but also the stunning natural landscapes that inform their design. Our Japanese garden experts will accompany you throughout explaining the concepts and execution of the different styles of Japanese Gardens.
Contact us to learn more about this tour and take your first steps towards your own experience of Japan's finest gardens that can transport you back through 300 years of history whilst showcasing the best of all four seasons.