Thinking About Climbing Mt Fuji?
Besides Mt Everest, Mt Fuji is probably the most well known and certainly the most easily recognisable mountain in the world. Unlike many mountains that form a peak in a range of mountains, Mt Fuji stands alone, a near perfect conical shape that appears to look almost the same from all sides. This is in part due to its beautiful symmetry, but also because the land surrounding Mt Fuji is so flat on all sides. Mt Fuji is in fact the world's second tallest free standing mountain after Mt Kilimanjaro in Africa.
The famous outline of Mt Fuji has long been an artistic inspiration, such as Hokusai's famous 36 views of Mt Fuji collection of edo-era ukiyoe wood block prints  Few other mountains are as photogenic, in part due to the lakes surrounding Mt Fuji, several of which offer incredible photo opportunities if the skies are clear. One tip to get the best change of snapping a photo like the below is to get up just after sunrise and try get some photos before breakfast when the air is most likely to be clear and humidity is lowest meaning your photo will have less haze to desaturate the image.
Mt Fuji is a a UNESCO natural heritage site and of course its a huge attraction for so many visitors to Japan. If you get a chance to see it in real life, it's easy to see why it draws visitors from all over the world. But the vast majority of people who visit Mt Fuji never set foot on it, but rather take photos and spend time gazing from a safe distance, admiring it in person but from afar.
Another group of people however have much greater ambitions and want to climb the world's most famous volcano. Whilst it may look more beautiful from afar than up close, the satisfaction of summiting the 3,776. metre (12,388 ft) high volcano and being rewarded by stunning views of sunrise in the land of the rising sun…. well, it makes the uncomfortable night of climbing with minimal sleep well worth it.
So the first question people need answered is what months of the year can they climb it?
There is an official climbing season that begins in mid July and until mid-September during which periods the mountain peak is usually free of snow. This is when the trails and mountain facilities are open and access by public transportation is straightforward. The specific dates depend on which trail you want to climb and change from year to year based upon the mountain conditions.
How long does the accent and decent take to complete?
Well, luckily for you, there is no need to climb all 3776m of elevation. In fact, most people will take a bus to the "5th station" of the mountain, the most popular of which is the Fuji Subaru Line 5th Station, which lies at an elevation of 2,200m leaving a mere 1,576m of elevation to actually climb on foot. This station offers stunning views of the 5 lakes below and thus is a popular place for people to go, even if they aren't going to undertake the climb.
There are 4 distinct trails, and taking the most popular Yoshida Trail from the 5th Station to the summit will take you about 5 to 7 hours. Coming down will using the same trail will take you about 3 to 5 hours. An average of approximately 3,500 people summit the mountain daily during the 2 month long climbing window. Near the summit, the path narrows into single file in several places meaning the long queues of people can only move as fast as the slowest person. Without question, the fact that you can say you have climbed Mt Fuji is something you can cherish for the rest of your life, but in reality, due to the intense crowds, and long queues near the top, it is not a particularly fun climb relative to other less well know mountains.
Is the Climb Difficult or Fun?
The short answer to this is probably neither. Of course it could be fun depending on the company you and climbing with. The climb (hike would be a truer verb) is not technical, and is quite monotonous due to most of the trail being above the tree-line, so the landscape is monotone and lunar-like with little to no vegetation to admire. Most people set-off in darkness with head torches, and aim to get most of the way up the mountain before resting at one of the stations for 45mins or an hour of sleep before making the final accent with the hopes of witnessing a magical sunrise, if the skies are clear. If you want to sleep in a station (which helps to reduce the chances of getting altitude sickness as it gives your body more time to adjust to the change in altitude) you must book ahead of time and pay something like JPY 6,000 for a relatively short amount of time.
As the peak us usually well above the clouds, the sunrise is nonetheless spectacular to watch from the peak, even on cloudy days when the land far below is nowhere to be seen. It's more likely to be cloudy than not for most of the climbing season, so this is what people should expect and be satisfied with and if they happen to summit on a day with crystal clear skies and views for hundreds of km over the Tokyo (160km away) and the sea of Japan, then this is a special bonus.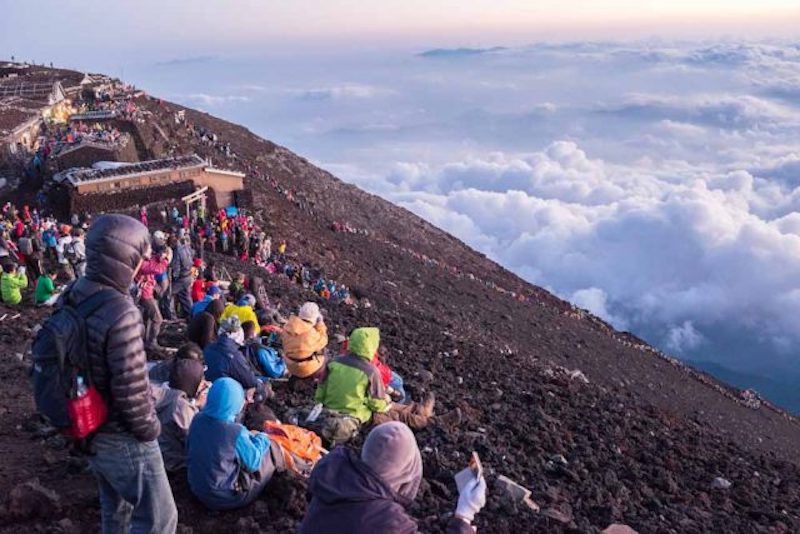 The climb itself for the most part may not be as picturesque as hiking a mountain in your home country, the crowds are less than ideal, and the weather and clouds are out of your control, but even with these factors considered, we still recommend trying it if you have the fitness for a 10 hour hike and have the curiosity to see what the experience is like, even if not every minute is a pleasant one. Passing by shinto tori gates and mini shrines along the way can be fun, and its incredible to find what could well be one of the highest vending machines in the world (with understandably over-inflated prices for cold beverages). In short, if you ask anyone who has climbed Mt Fuji are they glad they did it and they will almost certainly say yes without hesitation. Then ask them if they would like to do it again, and expect a little pause for thought!
If you are interested in climbing Mt Fuji, our Japan travel consultants can create a travel itinerary that allows for a rest day the next day and practical travel information that include a packing list for the climb and much more besides. Contact us to if you'd like our recommendations on other activities and attractions to do when in the area.