'Taste Japan' Online Travel Talk
'Taste Japan' Travel Talk
Thursday, 10th of December, 2020
Thanks 6th zoom webinar of the year.
This webinar introduced you to some experts in different aspects of Japanese food and dining experiences in Japan. You will learned about different aspects of affordable and higher-end Japanese cuisine and hopefully, pick up some practical knowledge about how to try out experimenting with a taste of Japan in your own home too!
Panel & Topics :
Guest Speaker: Frank Striegl, 5AM Ramen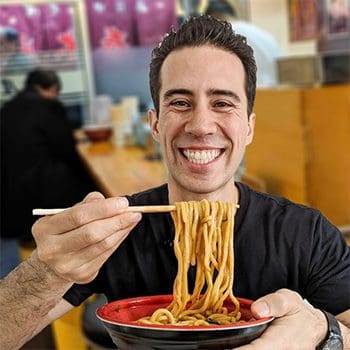 Frank is a Filipino American born in Tokyo and raised on ramen. He appropriately consumes over 350 bowls of ramen a year and operates a blog called "5 AM Ramen" and runs ramen tours for visitors to Japan. Alongside the growth of Japan's inbound tourism, he thought ramen-focused tours would be a lot of fun and a great way to introduce ramen to a global audience.
Guest Speaker: Ronnie Lim, Hotel Okura Tokyo
Ronnie represents Okura Nikko Hotels and is based in their London Global Sales Office where he has established a great working relationship with Unique Japan Tours.  During the Taste Japan webinar, Ronnie will provide a summary of the portfolio.  He will be joined by his colleagues in Tokyo to give a live showcase of the flagship hotel; The Okura Tokyo where the hotel re-opened after a full makeover.  In addition to luxurious bedrooms, the tour will also feature Sazanka – a teppanyaki restaurant on level 41, giving diners a captivating experience with views of Tokyo.
Guest Speaker: Junko Hamilton, Japanese Cooking Instructor
With many years of delivering Japanese cookery workshops to English-speaking participants, Junko san outlines some authentic Japanese "foodie experiences" where she lives; a couple of hours north of Kyoto which off a culinary cultural experience that is as educational as it is tasty! This experience offers something quite contrasting with the higher-end luxury hotel dining experience in Tokyo. The warmth of the local people in the countryside in Japan alone makes it special, let alone learning to make your own Miso from Junko, your guide and Japanese cooking master.