Romantic Japan: Winter Illuminations
What if you're in Japan, and want to get out and about at this time of year? You're on your honeymoon in Japan, and looking for something romantic to do? Is there any kind of special, romantic event you can go to? Something unique, and beautiful to capture your imagination and create enduring memories? We know there is!
      You may or may not have noticed, but winter has well and truly arrived with each passing day bringing a further drop in the temperature. At this time of year we love nothing more than spending time with friends under the kotatsu, devouring mikan  (mandarin) and eating delicious nabe, or hot pot, by the gallons (if you have any good nabe recipes please share!). But despite the cold weather it's actually a great time to get out and see some of the many beautiful illumination attractions that spring up all around Japan at the end of year.

The amazing Kobe Luminarie.
Source: https://flic.kr/p/dGSqub
When you first hear about an illumination attraction it's difficult to understand the excitement, or why people make such elaborate plans, and travel for hours to go and see them, especially to Kobe. If you're curious to find out what the fuss is all about we highly recommend you go to visit them. If your only real reference point is the Christmas lights on Dublin's Grafton Street, let me assure you you will not at all be prepared for what awaits you in Kobe.
The streets are jammed with people, everyone following a cordoned off path that leads to the main illumination site. The crowds create a rousing atmosphere and there is a growing sense of anticipation with every corner you turn. One final turn onto the main avenue and there the Luminarie will be shining in all its glory!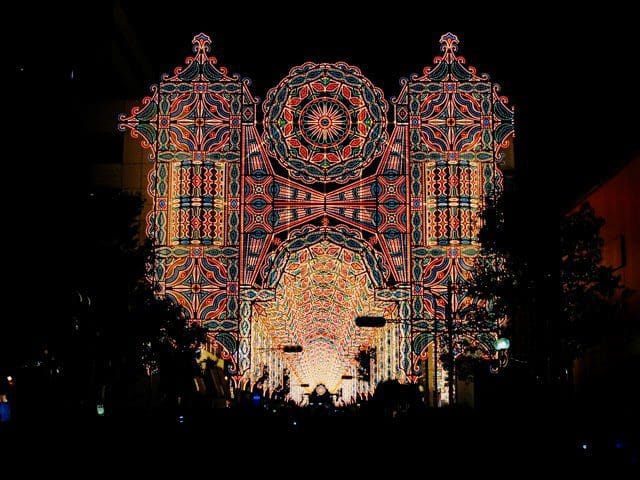 Lights, lights everywhere!

Source: http://goo.gl/4PKxHC
The scale of Kobe's Luminarie is so spectacular that pictures and words really fail to do it justice. The design is intricately detailed and the display so vast, creating a real sense of magic that fits so well with the run-up to holiday season. If you are in the region and have the opportunity we highly recommend visiting. If you're not near Kobe, never fear! There are a whole host of other illuminations held in cities across Japan, including several in Tokyo.
There is something fantastical about illuminations in Japan. They capture the imagination of young and old. They're magical places which many couples visit as a date night. Undoubtedly the memories of visiting illuminations becomes an important one in their relationship. If you're honeymooning in Japan, or are a couple on a romantic trip at this time of year, these illuminations are highly, highly recommended.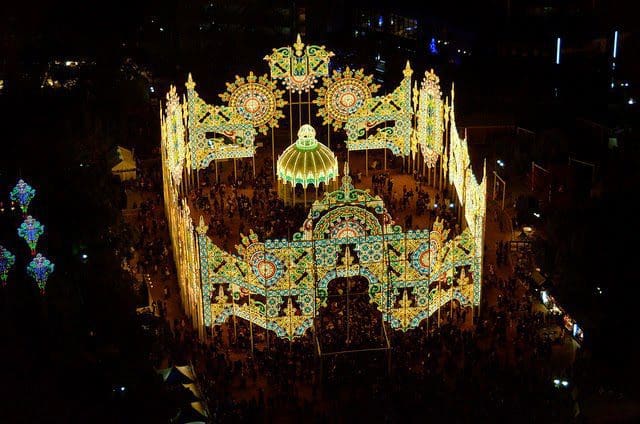 Sky view of the Kobe Luminarie.

https://flic.kr/p/dB9YDZ
If you want to recommend any great winter illuminations in Japan, please share them in the comment section! Or why not consider a visit to Japan at winter and stop off to see these magnificent illuminations. While you're there, you could even partake in some snowboarding, but more on that in a future blog post!