JNTO Familiarization Trip 2015
In late September and early October, Unique Japan Tours joined a familiarization trip organised by the Japan National Tourist Organisation. The purpose of these trips is to introduce new, unique places in Japan to promote trips there. The familiarization trip (or "famtrip") we joined took us from Okayama and Kurashiki, down into Tokushima, to Shodoshima and finally to Himeji.
Of course, we knew most of these places already, and we've sent many of our clients to these places to. But we always want to learn more, look deeper and see what's new and exciting. Over the next few blog posts, we're going to explore the areas we visited, introduce them to you, and share our pictures.
Today, we're just going to give a brief overview of the tour. First off, we'd like to extend our sincerest thanks to the JNTO for organizing and inviting us on this FamTrip. It was a lovely trip, we enjoyed it, and most importantly, we learned a lot and can't wait to incorporate it into our tours!

Okayama & Kurashiki
We visited the beautiful Korakuen garden and Kurashiki historical area.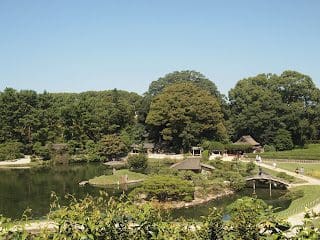 Korakuen Garden is stunningly beautiful
Okayama Castle is visible from Korakuen Garden
Kurashiki canal district is beautiful at night
Shikoku
After staying overnight in Kurashiki, we traveled down into Shikoku. We visited the Iya Valley, and crossed one of the Iya Valley vine bridges, or kazurabashi. We also has a leisurely cruise down the river in the Iya Valley. Then we got to experience indigo dying, and we dyed our own handkerchiefs. Finally, we made our way to Tokushima city, where we visited the Awa Odori Kaikan, and got to see the Awa dancers. The Awa dancers usually only perform once a year at the Awa Odori, which is the second biggest dance festival in the world after Carnival. But recently, the different dance groups have started putting on nightly performances in order to practice throughout the year. This was a particular highlight!
Crossing the Iya Valley vine bridge really sets your heart beating
Leisurely cruise down the Iya Valley
The vine bridge spans a big distance
The lady Awa dancers from the Awa Odori festival
The male Awa dancers 
from the Awa Odori festival
Shodoshima
We explored Shodoshima on day 3. We took a ferry there from Takamatsu. Shodoshima translates as "small bean island", and is like a Mediterranean Island in Japan. They grow plenty of herbs and olives. They even have olive ice cream, and all sorts of olive oil based beauty products. Shodoshima is also home to some of the oldest soy sauce breweries in Japan, and many operate using the traditional methods. A single batch of soy sauce can take up to 5 years to produce! We also experienced making thin, traditional noodles, or somen, and finished off with a spectacular view of the whole island.
Olive tree grove on Shodoshima
Olives!
Greek style architecture on Shodoshima
Somen making – stretching the noodles
Somen making – separating the noodles
View from the peak of the island
Himeji
We finished off the trip by visiting Himeji. The castle in Himeji is the best in Japan, it's in it's original state, completely preserved. It's been under cover for the past 7 years, undergoing some restoration and re-enforcing work. It was re-opened earlier in 2015, and it's a spectacular sight to behold either day or night.
Overcast weather is not good for photos
The view from the top of Himeji Castle
Himeji Castle at night
The gate into Himeji Castle at night

As you can see, we visited many places and took in many incredible sights. In the coming days we'll be posting more pictures and information on the places we visited, so keep an eye out for that!
If you've never been to any of these places, but already know you would love to, why not 
contact us
 and let us know. We'd be more than happy to help you 
plan a trip
 that includes these wonderful destinations!