Japanese Pilgrimage Route: The Kumano Kodo
The Kumano Kodo are a series of pilgrimage trails, located in the Kansai region of Japan, south of Kyoto and Nara. Kumano is the name of the area, and "kodo" means the "old ways", so the name literally translates as the old ways of Kumano. The trails were, and still are, used by pilgrims visiting the Three Grand Shrines of Kumano. The Kumano Kodo, as well as Koya-san and some other surrounding areas, were collectively registered as UNESCO World Heritage sites in July 2004.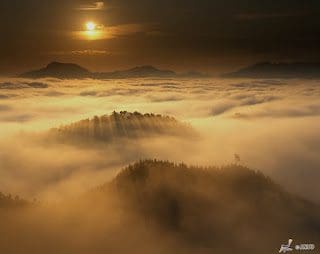 The stunning beauty of the Kumano Kodo
Source: JNTO
The gods have lived in the Kumano area for a long time. For over a thousand years people from all levels of society, be they Emperors, aristocrats, samurai or peasant have trekked the Kumano Kodo. The generosity of the gods in Kumano, and their willingness to accept anybody, led to the spread of the religion and the development of the pilgrimage routes. There were a number of different routes in the area, connecting Kumano to not only Kyoto, but to Nara and Osaka. Though a lot of the routes have been disrupted or destroyed by more modern transportation development, there still remains a number of the original routes, dating from the Edo period (start of the 17thcentury) or before!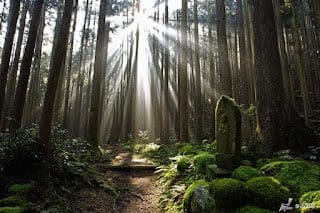 Hiking the Kumano Kodo can be a religious experience
Source: JNTO
These days, the area is still visited by pilgrims and tourists. The area is packed with rivers, waterfalls, streams, and spectacular views. The area is dotted with symbols, monuments and sites that allow a visitor to see the unique blend of Japanese Shintoism and Buddhism, which was imported from both China and the Korean Peninsula.
If you're feeling adventurous, hiking the Kumano Kodo can be a religious experience on its own. The terrain is mountainous, and the trails long, sometimes as long as 21km. If you're not feeling adventurous, don't let this discourage you! It's entirely possible to visit the main shrines of the Kumano Area without long hikes, with bus connections between the temples a very viable, and often recommended option! Either way, it's a chance to turn off your electronics and escape to a more zen place! You'll be a different person after visiting the Kumano Kodo.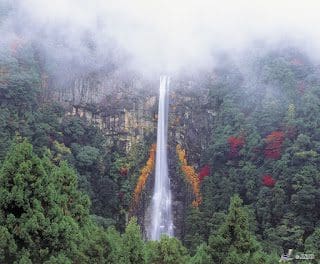 The Naichi Waterfall in the Kumano Kodo
Source: JNTO
The Kumano Kodo is a once in a lifetime hike, and a key part of our Scenic Samurai Trails Tour. This tour will allow you to walk extensive parts of the pilgrimage routes. You will be led by local mountain guides who will accompany you through forest trails and valley gorges on foot, by boat, and private vehicles, staying overnight in mountain lodges and traditional minshiku. All of this will combine to make for an unforgettable, unique trip to Japan.