Hakuba Valley… Japan's Premier Alpine Resort!
Check out our video promoting our self-guided See & Ski Japan tours to Hakuba to get a taste for what next winter may have in store for you!
Below are some of our top tips for first-time (or repeat) Hakuba visitors!
Hakuba's Ski Resorts
The Hakuba Valley lift pass lets you ride in any of the 10 main zones in the area around Hakuba Village, Otari Village, and Omachi City. These zones are Hakuba Sanosaka, Hakuba Goryu, Hakuba 47, Hakuba Happo-One, Hakuba Iwatake, Tsugaike Kogen, Hakuba Norikura, Hakuba Cortina, Jiigatake, and Kashimayari. 
Night skiing is open until 10 pm in many areas but the ski runs lit up at night are quite limited when compared with Niseko (which boasts one of the biggest night skiing areas in the world). You'll need to purchase night skiing passes from the ticket counter in the resort.
For the Skiers
From the complete novice to the expert skier, Hakuba provides some of the best skiing in all of Japan. Everything from gentle beginner slopes to steeps, bumps and long groomers and of course plenty of fresh powder. The Happo-One resort has some of the longest vertical pitches in all of Japan and is Hakuba's premier skiers mountain. Hakuba 47 and Goryu-Toomi challenges everyone from first timers to experts. Tsugaike and Iwatake are well suited for the beginner to intermediate, with long cruising trails providing an opportunity for non-stop uninterrupted skiing. Hakuba's reputation as a serious skiers destination is well balanced across all levels and offers something for everyone.
For the Snowboarders
Endless half-pipes, terrain parks, gullies, hits, powder bowls and steeps are on offer for you in Hakuba. From Sun Alpina to Hakuba Cortina the variety of terrain on offer is guaranteed to satisfy all levels. For the beginner, learn to snowboard with great views, helpful instructors and gentle slopes at all of the resorts. For the experts, fantastic powder conditions, berms, jumps, half-pipes, terrain parks and plenty of freestyle action is waiting to be had. Take your pick, as every resort has plenty on offer for snowboarders in Hakuba. Favorites among the resorts are Hakuba 47 and Happo with their challenging and diverse terrain, Tsugiake's Liftsboard park and Cortina with its light, dry, deep powder and ungroomed trails.
Worlds finest powder snow!
Whilst the highly acclaimed Niseko Ski Resort in the north island of Japan is the rightful heir to the throne when it comes to the King of Powder Snow, Hakuba is a pretty close second.
With over 11m annual snowfall, and with a lighter and drier snow that is found in European resorts (thanks to the westerly Siberian winds), Hakuba is another of the Powder Meccas in Japan that ski and snowboard enthusiasts all around the world dream of one day visiting.
Alpine terrain that hosted the 1998 Winter Olympics
Whilst Niseko may beat Hakuba in terms of annual snowfall, Hakuba beats Niseko easily in terms of the range of ski runs, the steepness of the race hill runs, the scale of the vertical drop from top lift to resort level and the sheer length of the alpine terrain.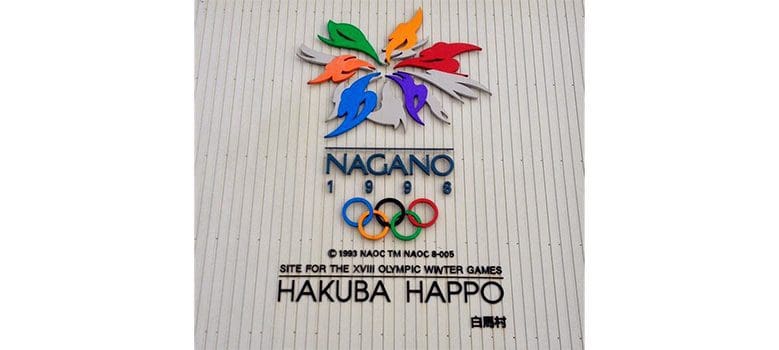 Hakuba Valley boasts 5 gondolas and 138 chair lifts giving access to over 200 courses, 9 terrain parks and 1,071m of vertical drop from the highest lift back to the bottom.
Snow Sports Schools & 4 dedicated kids areas on piste
Thanks to an influx of Australian and New Zealand based ski instructors & ski rental and equipment maintenance experts seeking a second winter season in a different hemisphere, the is an abundance of highly experienced English speaking ski industry professionals working each winter in Hakuba. There are several ski schools offering private and group instruction including international schools with top-rated Australian fully certified ski instructors such as Evergreen Ski School which offers lessons to everyone 3 years old and above.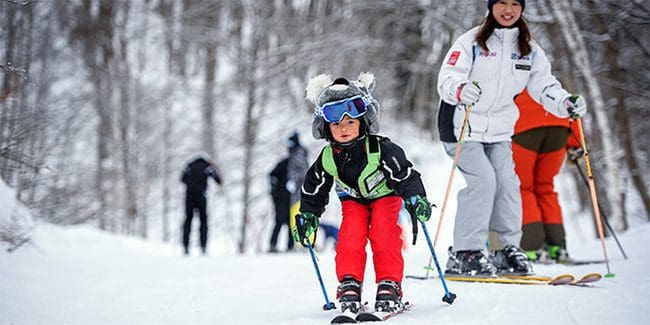 Combine some of the best ski instructors in the world Japan's tremendous safety record, its high-quality infrastructure and well-maintained lifts etc and it is clear why Japan is a leading choice for bringing your family on their first ski trip!
Non-Ski Activities in Hakuba
Traveling with someone who is not so keen on skiing or snowboarding? Perhaps you're traveling with a partner who is at a very different level of ability and you want to do something fun together? Pulled a muscle and need a break from the slopes for a couple of days? Or perhaps you want to keep the younger members of the family entertained?
The Hakuba Valley offers a wide range of guided, non-ski winter activities (with English language instruction available) to complement the ski facilities. Snowmobiling, onsen visits, trying on a Kimono or a visit to the old samurai castle at Matsumoto Castle or the famous snow monkeys bathing in their natural outdoor onsen.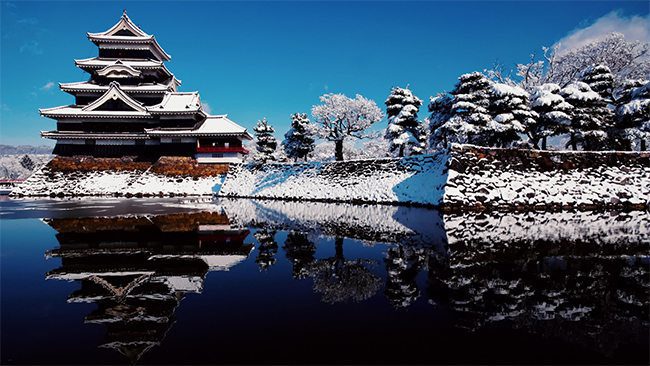 Hakuba Accommodation & Après-Ski
Most of Hakuba's accommodation options are located at the base of Happo-One Mountain, in the Wadano Village. Alternatively, many guests enjoy staying in Echoland, which is the main restaurant and bar area of the Hakuba Valley. There is a wide variety of accommodation available, including traditional family-run lodges, self-contained cottages, and hotels with Japanese and western style bedding.
Hakuba offers a wide variety of restaurants and has some fantastic après ski entertainment. Most hotels have a bar and lounge area, however, if you are looking for something a little outside the box and a great cultural experience, head down to Echoland and the Happo area.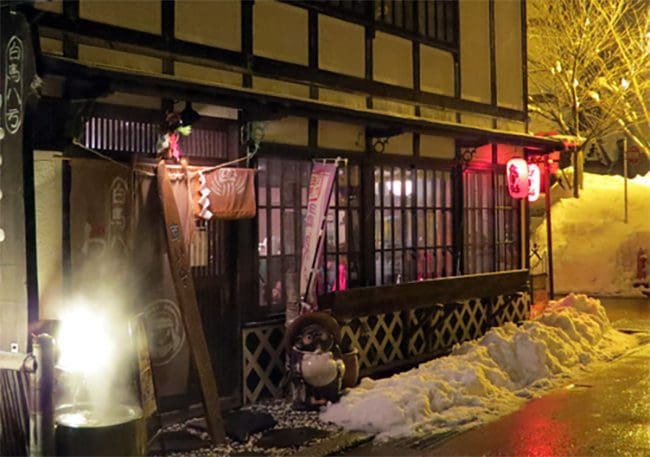 Onsen (Volcanic Hot Spring Spa)
There is no better way to recover from a full day on the mountain and prepare the muscles for another session the following day than to soak in a mineral rich volcanic hot spring bath.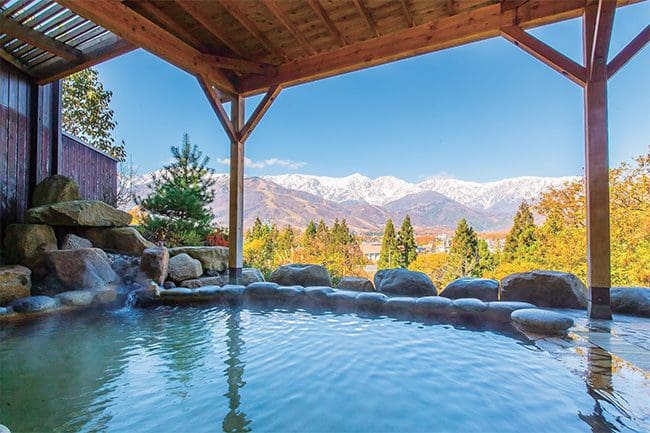 A visit to the onsen is perhaps the quintessential Japanese experience and adds yet another factor to make Japan a unique choice for your winter break. There are 12 of these "onsen" located in or close to Hakuba (listed below) with photos.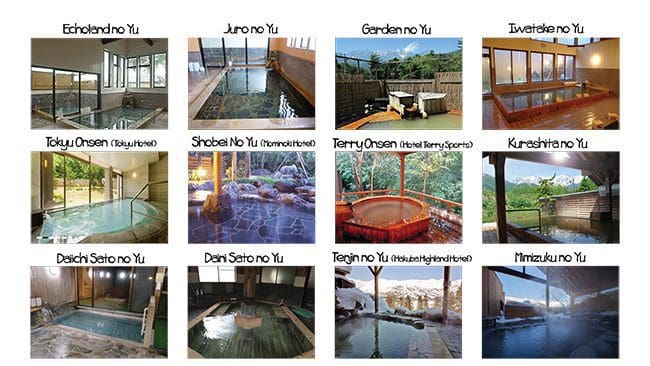 Talk to us to plan your perfect alpine holiday experience!
Unique Japan Tours have arranged many successful ski holidays for first-time and repeat winter visitors to Japan. We know what questions you may have as we have heard and answered them all and more, many times before and we have the resources already put together to make your life so much easier. After a chat with one of our staff, Japan suddenly seems a lot closer than before.
Our self-guided "See and Ski Japan Tour, featuring Hakuba" is a popular choice for people who want to mix a trip to Japan (complete with a visit to famous snow monkeys relaxing in natural outdoor onsens) with a winter sports holiday to remember.

Contact us today to make an enquiry or seek further information on what we offer you to make your winter dream holiday a reality!