Gardens of Japan – Kenrokuen Garden
Kenrokuen Garden is a magnificent garden located in Kanazawa. Renowned throughout Japan as one of the country's Three Great Gardens, Kenrokuen means "Garden Combining Six Features", referring to the spaciousness, seclusion, artificiality, antiquity, broad views and abundant water throughout the garden.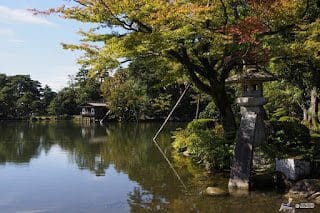 Tea house seen from across a lake in Kenrokuen Garden.
Source: JNTO
The garden is a work of art. It took over 170 years to build, and the 105,000 square meter garden is full of hidden nooks to explore and discover. Kenrokuen is also home to Japan's oldest fountain, not to mention a 300 year old tea house, and the Kotjo-toro lantern, emblem of the city of Kanazawa and the garden.
A beautiful stream flows through Kenrokuen Garden
Source: JNTO
Kenrokuen is designed for strolling round. Some of the walking trails lead to higher ground, from where you can see the whole garden. With a huge variety of plants and trees, the garden is designed to look beautiful regardless of season. Even winter has something unique and beautiful to offer, as the trees in the garden are protected by yuki-tsuri, ropes which are used to support the trees, and prevent the branches breaking under the weight of winter snow. These ropes create beautiful geometric patterns, which make the journey worthwhile!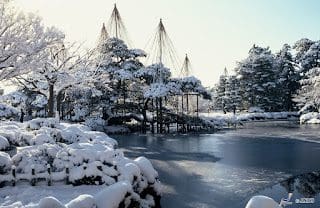 Kenrokuen Garden in winter with yuki-tsuri
Source: JNTO
Are you interested in Kenrokuen Garden, and other gardens in Japan?
Unique Japan Tours have launched a new
Gardens of Japan Small Group Tour
.
Gardens of Japan
is once in a lifetime tour taking you to the finest Japanese Gardens. Our tour is created in such a way that you will experience not only the incredible beauty of these gardens but also the stunning natural landscapes that inform their design. Our award-winning Japanese Garden Expert will accompany you throughout explaining the concepts and execution of the different styles of Japanese Gardens.