Cities of Japan – Matsue City
Matsue is the capital of Shimane prefecture, located in the south western Honshu, the main island of Japan. Matsue sits on the banks of the Ohashi River, which connects the lakes of Lake Shinji and Nakaumi. Matsue is home to one of the 12 original castles in Japan, having survived wars, fires and earthquakes. The castle was completed in 1611 and renovated in the 1950s. There is a small museum dedicated to the Irish author Lafcadio Hearn, who lived in Matsue for a year, located in his former residence. Hearn was the first Western author to write books about Japan, including Japanese ghost stories, and there is a small museum next to the house dedicated to him and his works.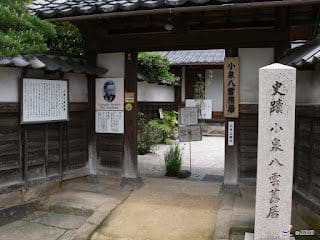 The Lafcadio Hearn Residence in Matsue City.
Source: JNTO
A short distance outside of Matsue, Izumo Taisha is one of Japan's oldest and most important shrines. No official record exists of when it was built, but in documents dating from the 700s, it's already in existence. The main god worshipped at Izumo is Okuninushi no Okami, who, according to Japanese creation myth, was responsible for creating land of Japan.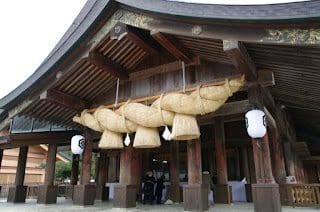 Izuma Taisha Shrine in Matsue.
Source: JNTO
East of Matsue, on Daikonshima Island, is the beautiful Yuushien garden. Yuushien is a traditional walk-through garden with carp-filled ponds, streams, and waterfalls and is most famous for its 250 types of peony flower. In spring, early-flowering peonies are painstakingly transplanted by hand into the large central pond transforming the heart of the garden into one gigantic garland of cascading colours. In autumn, Yuushien holds magical evening illuminations that turn the streams and ponds into reflecting pools that capture and magnify the vibrant colours of Japan's spectacular autumn foliage. On this evening you will be one of the lucky few who visit these amazing illuminations.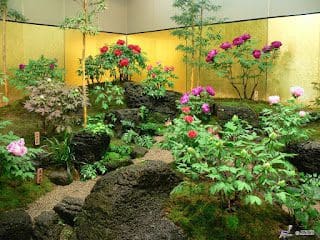 Yuushien Garden in Matsue, Shimane Prefecture
Source: JNTO
Matsue city is one of the stops on our new
Gardens of Japan Small Group Tour
. You will visit gardens in Tokyo, Kamakura, Kanazawa, Kyoto, and Shimane that best exemplify the three main types of Japanese gardens: tea gardens, sand & stone gardens, and promenade gardens. These include Kenrokuen, one of the Three Great Gardens of Japan, and the Adachi Art Museum Garden which has been crowned the best Japanese landscape garden for twelve years running by the Journal of Japanese Gardens.