Amami Oshima… A Secret Tropical Paradise!
Japan's four main islands Hokkaido, Honshu, Shikoku and Kyushu make up 90% of its territory, however many people forget that Japan is basically one large archipelago of island. 6,852 island to be precise, of which 430 of them are inhabited. If you asked the staff at Unique Japan Tours what is their favourite island (besides the largest four of course), it might well be Amami Oshima.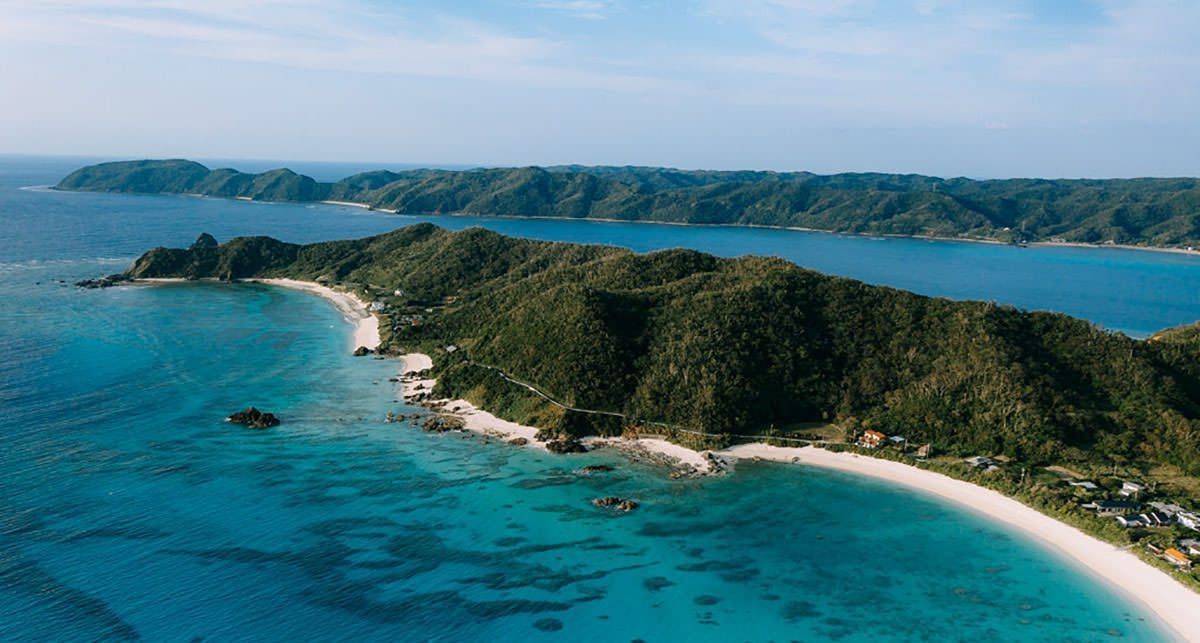 Think of tropical Japan and most people would immediately think of Okinawa. Whilst Okinawa is indeed a wonderful tropical island, it is also quite heavily touristed in recent years and beaches near the main centres of accommodation can be a little busy. When we recommend a tropical break in Japan, the one destination that we talk about again and again is the sensational Amami Oshima.
A main highway bisects the middle of Amami Oshima for ease of transport, however the coastal roads around the island offer much more rewarding views and lookout points as it winds past beaches and cliffs, each more beautiful that the last.
Amami Island is the 7th largest island by land area (if you exclude the disputed Etorofu island and Kunashiri island both of which are under dispute between Russia & Japan). The 5th largest island Okinawa is the largest of the tropicals island of Japan with a population of 1.3million (including 80,000 Americans of which over 30,000 are US Military). By comparison to Okinawa, Amami Oshima, with its 73,000 population, is quite rural, isolated and has one or two foreign residents. It's the perfect retreat for water sports fans or simply rest & relaxation on stunning white sandy beaches.
The locally produced spirit on Amami Oshima is called Kokuto Shochu, and you can learn a lot more about this drink by watching the webinar we recently live-streamed when we had a special guest John join us live from Amami Oshima to explain about the island and the food and drink there. John is actually researching and writing a book on Kokuto Shochu, the local spirit brewed on Amami Oshima. You can check out a recording of that webinar at the bottom on this article.
As with so many other Japanese destinations, it has a local delicacy that it's proud to call it's own. On Amami Oshima, Keihan Chicken (pictured below) is the most popular local dish served in Amami.
Whilst the total human population may be quite low, the wildlife population certainly isn't, with many exotic birds, sea turtles and even a local variety of rabbit that only exists on Amami Oshima.
One of the highest form of craftsmanship found on the island may be their textile industry. Oshima Tsumugi weaving is the traditional handicraft of Amami Oshima island. Made through a lengthy process, these silky black patterns and intricate details need to be seen first hand to be truly appreciated. The material can be used to make Kimono's and other such traditional clothing, but is also used to make wallets and other items that tourists may be tempted to pick-up.
A wide range of water-sports can be done on the beaches around the island. Many people try snorkelling and scuba diving in the crystal clear waters and to check out the coral reefs teaming with colourful marine life. Stand up paddle (SUP) boarding is also quite popular around the coastline, but perhaps one of the most unique experiences you can have is kayaking through the virgin mangrove forest in the centre of the island.
A favourite for honeymoon couples and married couples on wedding anniversary trips, Amami Oshima features a tidal rock-pool shaped like a heart affectionately known as heart rock. The location has been the focus of countless Instagram photos and facebook profile photos as visitors pose inside the heart for a memorable photo unlike any other in Japan.
In the main port town of Naze, the main catholic church has a marble alter that was shipped to Amami Oshima from the USA after being used to support the coffin of JFK during his funeral. This is a peculiar fact indeed, but just one little historical titbit that may be worth checking out on your visit to the main town on the island.
The island has several museums, but the one we would highly recommend is that of Tanaka Isson, who painted natural images inspired by plant life on the island. Incredibly for someone who has an entire museum dedicated to his much celebrated works, he only started painting in his 50's.
Amami Oshima offers a perfect tropical pitstop to get some rest and relaxation done, perhaps after a busy and active trip around the main islands of Japan. The beaches are very often deserted or nearly deserted and the slower pace of life (slower than the more famous tropical Island Okinawa) lends itself to a stress-free and peaceful visit
If you are looking to see some of Japan's highlights and also experience this tropical paradise, check out our Traditional & Tropical Japan small group tour and/our our Traditional & Tropical Japan self guided tour along the same route
The below is a recording of a webinar that we broadcast with a guest speaker joining live from Amami Oshima. We highly recommend checking this out if you are considering some relaxing on a beautiful beach in your Japan travel itinerary! 👍