17 Tips to Travel Abroad Safely During the Pandemic!
Of course, any travel carries an increased risk of coming into contact with Covid 19. However, when done correctly, you may find that traveling abroad need not be such a high risk and there are many tips and strategies that you can use to keep yourself and your family as safe as possible when you travel.
1) Tour Type – Self-Guided versus Escorted Tours?  
Never has booking a holiday with a reputable travel agent/tour operator been more important. If planning your trip to Japan, we highly recommend joining a private/bespoke tour with plenty of local guides & chartered transport included, or better still, a small group tour. The benefits of joining a tour with other people are invaluable:
24/7 Local Tour Leader with you from start to finish.
Carefully planned daily excursions, all flexible to deal with any changes that are needed, due to unforeseeable covid-19 problems.
Off-the-beaten track places are a given on any of our small group tour itineraries.
Traveling around by chartered vehicles are used more than public transport options.
Local guides mean local knowledge. You won't be on your own! And you will always have help to hand.
Daily temperature checks will be a must while covid is still around.
Careful research done in advance of anywhere visited on tour.
Visiting less popular attractions or destinations has many advantages from a sustainable tourism point of view. It also allows for a more authentic experience, in sync with real local cultures. Holidays that include lesser-known destinations that are a little further off the beaten path does require considerably more effort which is why using a reputable and proven agent of the destination you are going, is crucial.
2) How Safe are Airplanes?
Most airlines have implemented impressive safety measures onboard their aircraft, such as plexiglass dividers between aisles and keeping middle seats vacant. In addition, the sophisticated systems used to circulate and filter the air in a plane's cabin prevent most viruses from spreading easily during a flight.
Many people may think that they may pick it up when breathing in the air on a plane, but in fact, the ventilation system on most planes have a very high ratio of outside fresh air to recirculated air – about 10 times higher than most commercial buildings. If you are fine breathing in the air in a shopping centre, then the air on planes should be even cleaner.
3) What Seat Should You Choose?
After you book, select a window seat if possible. If you consider the six-foot radius circle around you, having a wall on one side would directly reduce the number of people you are exposed to during the flight in half, not to mention all the people going up and down the aisle.
Also, selecting a seat not so close to the toilet will ensure there will be no queue of people standing close to where you are sitting. On many airlines, priority boarding may also give way for boarding in an orderly fashion by seat row. If you want to get off the aircraft early, pre-book a seat in the front row.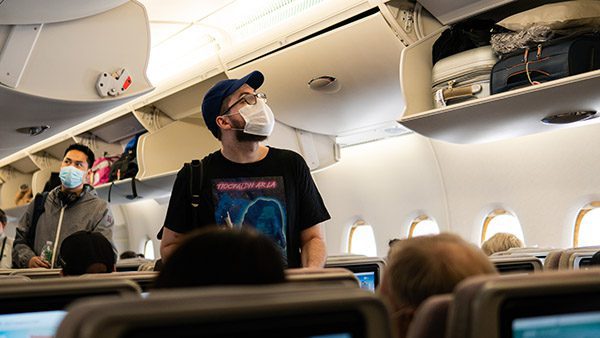 4) Check-in online before arriving at the airport 
If you have ever checked-in online, then you know how much easier it can make things when you arrive at the airport. If you have never done this before, it could be a great time to learn how. By checking in online before arriving at the airport, you will limit the amount of interaction that is required with airline and airport staff thus further helping you to keep your distance from others.
Check-in online or via the app and save your boarding pass to your phone. This will make security checks and boarding of the aircraft contactless. Just remember to charge your phone well before arriving at the airport (and keep a printed paper copy of your boarding pass in hand luggage in case your phone dies or otherwise breaks.
5) Say goodbye outside the airport
Many airports and train stations are not letting people in that aren't traveling. Saying goodbye to friends and family outside the terminal reduces the risk of them spreading or catching coronavirus.
6) Arrive an extra hour early at the airport
Extra security screening such as body temperature checks will add to the time it will take you to pass through to your departure gate. If you usually plan on arriving 2 hours before departure, it may be wise to arrive three hours early instead to allow for the unexpected.
7) Eat & drink before you travel
As many airlines will be offering a minimum in terms of in-flight food service (to encourage people to keep their masks on), it will be a good idea to leave enough time in the departure lounge to eat a meal before boarding the plane. Queues for airport restaurants may be longer than anticipated since airplane food may be limited for everyone. Prepare your snacks or buy some at the airport so that you fuel yourself correctly on the plane.
8) Use the bathroom before your journey
Also, ensure to use the bathroom before you board the plane, as, on shorter flights, the toilets may not be open at all, or even on longer flights, queuing for the bathroom will be discouraged, so you may need to push a service button and wait until the cabin crew says you can go. Minimizing alcohol consumption before the flight will of course minimise the need to go to the toilet also.
9) Spread out in the airport terminal
On the plane, you can't really do anything about the fact that you're in close quarters. However, it should be fairly easy to keep your distance while you're in the terminal, Avoid the "it's all a risk, so it doesn't matter what I do" type of mentality. Try to reduce how many risks you encounter on your travel day by staying 2 metres of others unless necessary until you board the plane.

10) Check airline baggage restrictions in advance
Many airlines will be changing their baggage policies. It is likely that that cabin baggage will be discouraged, as airlines will not want people standing in the aisles trying to place baggage in the overhead bins. However, most airlines should allow you to check-in your hand luggage for free.
11) Bring a large tote bag or reusable shopping bag with lots of supplies
With cabin baggage likely to be checked-in by many airlines, a large hand/travel bag will be essential on board. It is always better to be over-prepared, so bring plenty of bacterial wipes, hand sanitizer and masks, food supplies, and remember to pick up some water in the airport terminal, after you have passed through security.
12) Wear your mask throughout your travel 
Most airlines require that you wear a mask while in the airport and on the aircraft right now. But there are exceptions to this rule, such as when you're eating or drinking. Sure, you could "sip on your cup of water" mask-less throughout your whole flight, but…just don't. Bringing a drinking straw helps you drink without having to take your mask off entirely.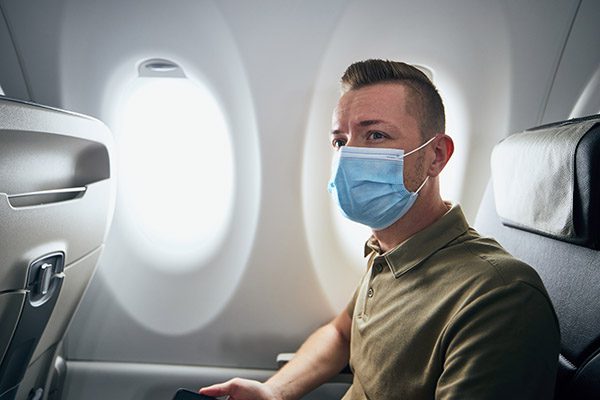 It's in your best interest to wear your own mask throughout your entire time in the airport and in-flight. It's best to think of wearing a mask as a social contract between you and everyone else on your flight. During a pandemic, it's simply the right thing to do. If you already have an N95 respirator, consider using it but others can also provide protection. Technically, it should also be tested to make sure you have a good fit. Also, don't forget to bring multiple masks with you in the event that one is lost or damaged.
If you are thinking about flying with kids, there are special considerations. Getting a young child to adhere to wearing a mask and maintaining good hygiene behaviours at home is hard enough; it may be impossible to do so when flying. Children under 2 should not wear a mask.
13) Wash your hands thoroughly and frequently
Frequent hand-washing has become part of our daily routine, and it goes without saying that this should continue when you travel. Frequent and thorough hand-washing with soap and hot water or with hand-sanitizer with at least 60% alcohol, especially after touching the surface of other places on the airplane (such as the bathroom and seat tops while standing up) and before eating or drinking, helps prevent the spread of the virus. We do not recommend the use of gloves, as that can lead to a false sense of security and has been associated with reduced hand hygiene practices.
14) Install travel apps before departing
Downloading apps such as google translate, google lens, TripAdvisor, google maps, and apps that are created and tailored with useful information on your destination will help negate the need to ask strangers questions for help.
It's unfortunate, especially for visitors to Japan, as the huge acts of kindness from random strangers are often one of the highlights of any person's trip to Japan. Often it is these interactions that can make a trip so memorable and special.
However, being well prepared and using available apps on your phone can help minimise the need to interact with people thus managing your risk of exposure to Covid 19 to lower levels. Many countries will have their own travel app with tourist advice relating to traveling with Covid-19 with the possible allocation of space on beaches.
Some countries have their mandatory locator forms available via their app too, this may mean you can present the online version on your phone when you arrive, rather than having to fill out a paper form.
14) Buy & Understand your travel insurance
It is vital that you check with your travel insurance company before you travel to see exactly what you are covered for. Most travel insurance companies will cover you if you are traveling to countries on a 'Green List'. However, flights will still operate in other countries, not considered safe by governments. You will find that government advisory in place against non-essential travel will still be in place for selected countries. If this is the case, you are technically traveling at your own risk and your travel insurance will more than likely be invalidated.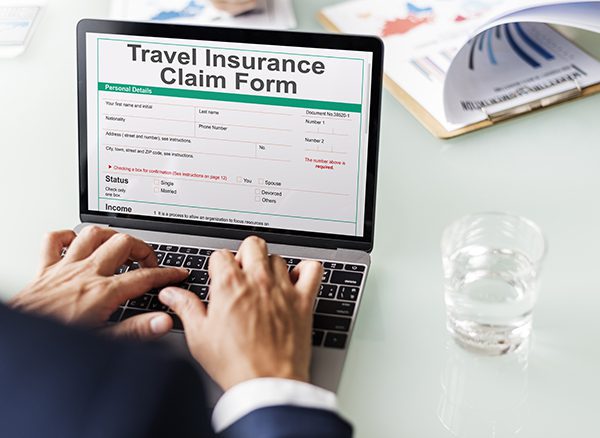 15) Watch closely the official "entry requirements" before you travel
Since the Covid-19 pandemic is ever-changing and rarely stays the same for more than a few days at a time, countries are updating their entry requirements on a near-daily basis.
Some destinations require proof of a negative COVID-19 test; other destinations test passengers on arrival. Many have mandatory 14-day quarantines, sometimes requiring you to submit a quarantine plan for approval, download an app, or get a tracking bracelet to ensure you follow the rules. Vaccination certification may eventually be needed for travel, but so far the science doesn't support "immunity passports" or proof that a person has had COVID-19 and is, in theory, immune.
Even if you have checked the entry requirements for the country you intend to travel to before, it's a good idea to regularly re-check to learn of any changes (if booking independently) or book your travel with a trusted travel agent who will keep you update with any changes that may affect you.
16) Ensure your hotels have implemented best practice in Covid-19 prevention  
Unique Japan Tours, like other tour operators, have been reviewing all of the properties that we are booking on behalf of our clients to ensure that we are only maintaining a relationship with local suppliers in Japan who are adhering to covid-19 prevention and control guidelines and have adequate additional cleaning procedures, etc in place.
If booking independently, we recommend doing additional research to question not only the merits of the hotel on the basis of price, location, value, quality etc, but also in terms of practical safety with regards to Covid 19.
17) Flexibility required for both traveler & service provider

Typically, when we travel, we do it to explore a destination and to unwind, but also to immerse ourselves in the local culture and do like the locals do. This requires quite a bit of flexibility, and that is even more true during this period. Every country, every state, every province and even every city has its own regulations in dealing with the pandemic. Make sure you know what those are in the destination you're visiting and comply with them. Another reason to join a tour that will have a local with you. You won't have to worry about any of this!
Finally, and probably the most important travel tip we can give you is:
Check the terms and conditions/small print for anything you buy into. Make sure that if Covid is still around, and you cannot travel to the destination because of a travel or entry ban, that you can get your money back and/or change your dates with no charges.