10 Most Popular Sports in Japan
The sporting world is focused on Tokyo right now with the Tokyo Olympics 2020 finally taking place  (albeit over a year late and under continued difficult circumstances). Japan has a history of hosting great sports events before with the 1964 Olympics, the 1972 and 1998 winter olympics, the 2002 Soccer world cup and the 2019 Rugby World Cup. Later this year Japan will play host to the Fifa Club World Cup for the 9th year in the event's 18 year history. But besides hosting major sporting tournaments, what sports are actually popular all year around with the Japanese public? Below, we take a look a the top 10 sports in Japan in terms of popularity.
Top 5 Most Popular Sports in Japan
1 Baseball (45.2% of Japanese people's favourite sport)
Baseball is nowadays the country's most popular participatory and spectator sport. It was first introduced to Japan in 1872 and it was developing since that year. Baseball is a revered sport in Japan; in fact, a majority consider it the unofficial national sport. It is popularly known as yakyu, or puro yakyu although most people will understand what you mean by the word "baseball." Thousands of supporters attend the baseball league games during the weekends and high school baseball during the summer. Although the sport was introduced in 1872, it was not until 1936 that a professional league was established. A little known fact is that Japanese baseball actually differs from the American in that the former has a smaller ball, playing field, and strike zone.
Baseball has been the most popular sport in Japan for years because it has the longest history of professional league in Japan.  Even high school baseball is taken very seriously, with the National High School Baseball Championships (or Koshien) a much-watched event every summer. The highest level of the game is the Nippon Professional Baseball, and it includes two leagues: the Central League and the Pacific League. Each league has six teams with the Central League including Yomiuri Giants, Yokohama DeNA BayStars, Tokyo Yakult Swallows, Hiroshima Toyo Carp, Hanshin Tigers and Chunichi Dragons. And the Pacific League contains Tohoku Rakuten Golden Eagles, Saitama Seibu Lions, Orix Buffaloes, Hokkaido Nippon-Ham Fighters, Fukuoka SoftBank Hawks and Chiba Lotte Marines.
2 Sumo Wrestling (27.3% of Japanese people's favourite sport)
Sumo is the national sport of Japan. It originated from the Japanese Shinto ritual that depicted a human wrestling a god. Sumo tournaments gained popularity in the late 17th century in Tomioka Hachiman-gu Shrine in Tokyo. Six major sumo tournaments are held across the country each year (3 in Tokyo, 1 in Aichi, 1 in Osaka and 1 in Fukuoka), with each tournament spanning 15 days. The highest-ranking sumo wrestler is known as "Yokozuna," and surprisingly no Japanese wrestler held the title at the global level between 2000 and 2016 with Mongolia producing several Yokozuna athletes. Unlike many combat sports popular in other countries, sumo wrestling has no weight classes and part of the public's fascination with the sport can be drawn from the inspirational performances of undersized competitors who use speed, technique, agility and gile (along with a healthy does of raw toughness) to out perform much larger opponents (on occaison). One such smaller sized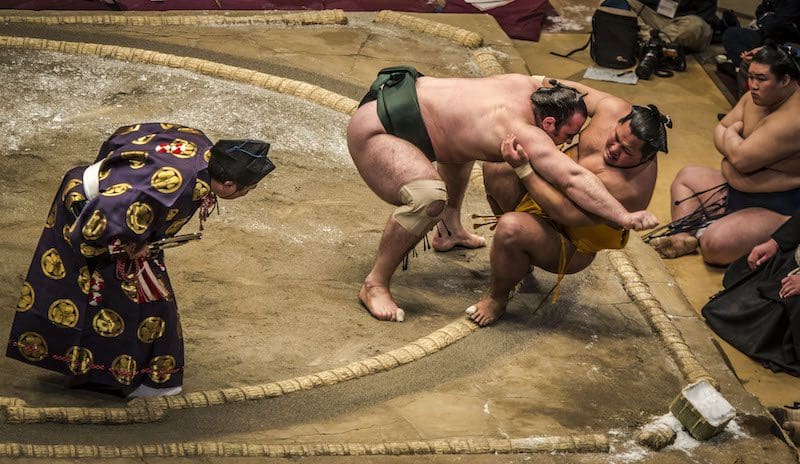 3 Soccer (Association Football) (25.0% of Japanese people's favourite sport)
Long before football, there was an ancient "kick ball" sport called cuju that developed in China and spread to Korea as well as Japan, where it was renamed "kemari". Kenmari was a gave of keeping the a leather ball off the ground using one's feet and was played by the Japanese royal family since 1400 years ago. Fast forward to the 19th century, the modern sport of football (a.k.a. soccer) was introduced to the country by Lieutenant-Commander Archibald Lucius Douglas of the British Royal Navy, who taught it to Japanese navy cadets between 1873 and 1879.
While football associations were organized in the 1920s, it wasn't until 1930 that Japan had a national team. And in 1936, Japan made its debut at the Berlin Olympic Games, where it celebrated its first victory in a 3-2 win over Sweden.

The first organized national league was organized in 1965, consisting of eight amateur company clubs. It remained semi-pro until 1992, when the Japan Professional Football League, commonly known as J.League, was formed. There are now 18 professional soccer clubs in Japan and a number of star players have emerged from J.League that have gone on to play at major clubs around the world.
In addition to these leagues, the Japanese national football team emerged as one of the best football national teams in Asia since the 1990s, they soon won the AFC Asian Cup with a record of four times, in 1992, 2000, 2004 and 2011 while at the same time they participated regularly in FIFA World Cups. And it is enough to say that the Japanese national football team qualified for the the last six consecutive FIFA World Cups and reached the second round in three editions: 2002, 2010, and 2018. The men's national team is known as the Samurai Blue.
4 Tennis (21.7% of Japanese people's favourite sport)
It's believed that tennis first arrived in Japan in 1878, when five courts were constructed in Yokohama's Yamate Park for use by foreigners. In the same year, western style physical education was introduced to the country and tennis was widely taught as a physical activity rather than a competitive sport. However, the expense of procuring materials for standard tennis balls led to the development of "soft tennis," which uses a flexible, all-rubber ball. By 1886, soft tennis was the standard form of the sport played in Japan, and it is still taught in public schools across the country to this day.
Tennis has taken a prominent place in Japanese culture. It was in tennis that Japan won its very first Olympic medals, both claimed by Ichiya Kumagai at the 1920 Antwerp Olympics. Japan's Emperor Akihito met Empress Michiko on a tennis court in the resort town of Karuizawa in 1957. The Prince of Tennis manga series has sold over 50 million copies. And since becoming the only male Japanese tennis player to ever be ranked in the top 10 in singles tennis, since 2015 Kei Nishikori has single-handedly put booster jets on the sport's popularity. In more recent years, Naomi Osaka has emerged as a superstar in the sport, winning 4 grand slam titles and achieving the accolade of being the no. 1 ranked female player in the world. She has been the leading Japanese face on most Olympics 2020 posters in Japan for several years leading up to the games.
5 Golf (13.7% of Japanese people's favourite sport)
Golf remained almost exclusively a sport for expats and Western-educated Japanese for some time. The opening of a course in Tokyo in 1914 introduced it to members of Japan's more traditional elite, with interest quickly expanding to see 71 courses opened across the country by 1940. Following World War II, the Japanese social class system was disrupted and more and more members of the new middle class began playing golf, creating a new wave of players. Golf was a new venue for conducting business and a sign of upward mobility until the collapse of the economic bubble in the early 1990s.
The Japan Golf Tour was founded in 1973 and as of 2006 it offers the third-highest annual prize fund out of the regular players (non-seniors tours) after the PGA and European Tours. Japan has produced many great golfers over the years, but the first Japanese player to win a major was Hideki Matsuyama who won the US Masters earlier this year.
Whilst this list stops at the top 5, we can summaries the rest of the top 10 as follows
6 Boxing (9.2% of Japanese people's favourite sport)
7 Basketball (6% of Japanese people's favourite sport)
8 Motor racing (various forms from F1 to WRC to D1 Drifting etc (5.2% of Japanese people's favourite sport)
9 Pro Wrestling (Puroresu) (3.8% of Japanese people's favourite sport)
10 Jukoda (& Martial Arts such as Karate, Kendo, Yabusame, Aikido, Iaido, Kenjutsu, Kyūdō,  MMA, Jujutsu and Karate)