JNTO FamTrip 2015: Shodoshima
In late September and early October, Unique Japan Tours joined a familiarization trip organised by the Japan National Tourist Organisation. The purpose of these trips is to introduce new, unique places in Japan to promote trips there. The familiarization trip (or "famtrip") we joined took us from Okayama and Kurashiki, down into Tokushima, to Shodoshima and finally to Himeji.
Of course, we knew most of these places already, and we've sent many of our clients to these places to. But we always want to learn more, look deeper and see what's new and exciting. Over the next few blog posts, we're going to explore the areas we visited, introduce them to you, and share some of our pictures.
Today is part three, where we spent the day on Shodoshima Island.
Shodoshima
Shodoshima is an island in the Seto Inland Sea, which is said to be like Mediterranean island, and we agree, it's very much like being in Greece! Shodoshima is known for growing olives and the quality of the olive oil produced there. There are olive groves, and all sorts of olive products available to buy, from olive oil, to olive oil cosmetics, and ice cream made from the leaves of the olive oil trees.
We got on a ferry to get to Shodoshima Island.
Olive tree groves.
The olives were almost ready to harvest.
Plenty of olives ready to make plenty of olive based goods!
They also grow plenty of herbs on the island.
The architecture is a bit Greek in style.
Somen Making
Somen is a type of noodle, similar to udon, but whereas udon is thick and hefty, somen is thinner, a few millimetres. We visited a somen workshop, where they explained how they make somen, and how the weather on the day of production influences how much salt is required. They showed us how they stretch out the noodles and make them as thin as they are. Afterwards we got to indulge in some nice, chilled somen.
Explaining how to make somen.
How to stretch out the somen.
Stretching somen part two!
Once the somen is stretched you separate them out.
After stretching and separating the noodles are very thin.
At the end we got to have some delicious cold somen.
Soy Sauce Museum
There's a number of soy sauce museums on Shodoshima. Notably, many of them still make soy sauce using the traditional method, which takes three to five years to brew a single batch! It was so fascinating to hear about the traditional process and how you go from soy beans and water to the dark, umami condiment we all know.
The mold in the rafters is key to the production of the soy sauce.
Look at that giant pressing machine!
They have three sets of vats fermenting the soy beans.
The soy beans will be wrapped in this cloth before being drained.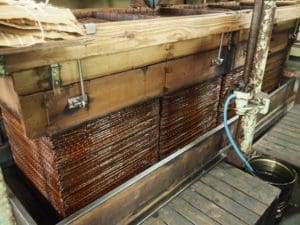 The cloths are pressed to extract the soy sauce from the fermented beans.
The factory staff thanked us for visiting.
Kankakei Gorge
Kankakei Gorge is thought to be one of Japan's most beautiful gorges, especially in November, when the leaves turn red and yellow. There is a ropeway which runs the length of the gorge, from a lower station up to a station near Shodoshima's highest point. At the top station there are incredible views, as well as souvenir shops, and, even though we didn't see them, the top is also inhabited by monkeys!
A view of the gorge from the top of the cable car station.
This is the cable car that takes you to the top.
Great view of the island from the top of the mountain.
What do you think of the photos? Have you been to Shodoshima? Do you love olives, or the idea of a Mediterranean island in Japan? Please share in the comments below.
If you've never been there, but would love to, why not 
contact us
 and let us know. We'd be more than happy to help you 
plan a trip
 that includes these wonderful destinations!