A theatrical workout for the senses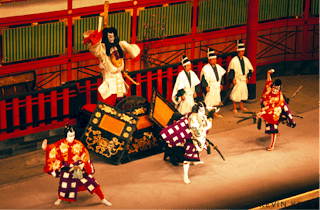 Take kabuki and remove from it the gorgeously colourful costumes, entrancing music and fantastical stories and what you are left with, in its bare essence, is a living, breathing traditional art form.
Any visitor to Japan that goes to watch a kabuki show is blown away with how dramatic it is. Perhaps this is because this genre of theatre fulfils all the fantasies that non-Japanese people have about historical Japan. Even if this is not the case, nobody can deny that it is beauty in motion.
The individual kanji (Chinese characters) that make up kabuki mean sing, dance and skill. Little wonder that all kabuki actors start their training at the age of around five with nihon buyo(traditional Japanese dance) lessons. This is also due to the fact that the origins of kabuki can be traced back to the early years of the Edo Period (1603-1867) to a shrine maiden in Kyoto called Okuni, who excelled at Buddhist folk dances. In the beginning women took most of the roles but they were soon forbidden on the grounds that their participation corrupted the public (i.e. male) morals. From then on only men were allowed to play the roles, even those of women.
Actors normally specialize in playing either male or female roles. It is surprising to even the Japanese that men playing women, known as onnagata actors, can sometimes appear even more feminine than actual women. But playing a woman is not for the faint-hearted. Dressing up as say a princess can be quite the workout, as costumes can wear around 20 kilograms.
You will be glad to know that watching kabuki is not so tiring – though there is a strong chance that it will get your heart racing! Kabuki performances are held in Tokyo during August and September 2012, and in Kyoto during September 2012. Unique Japan Tours is happy to arrange buying tickets to a performance of kabuki, so please let us know if you would like to go.